Tourist Trophy Riders Association | Supporting TT riders and their families.
Friends of the T.T.R.A. | News
The 6th Annual FoTTRA Charity Luncheon at
The Mount Murray Golf Club
Frances Thorpe our Secretary again succeeded in creating an event where members had a good time during a very enjoyable meal.
Unfortunately some members were unable to attend because of the extra planned practice session that afternoon, and most unfortunately this extra session was cancelled because of continuing bad weather
During the meal Frances drew our attention to the hard work done by many volunteers who are all part of a valuable team who look after the collection boxes. This team go round regularly collecting full boxes and replacing them with empty ones on a regular basis all year round. There are about 80 collecton boxes out in the Manx community at any one time and the money raised makes a significany contribution to the funds of our charity.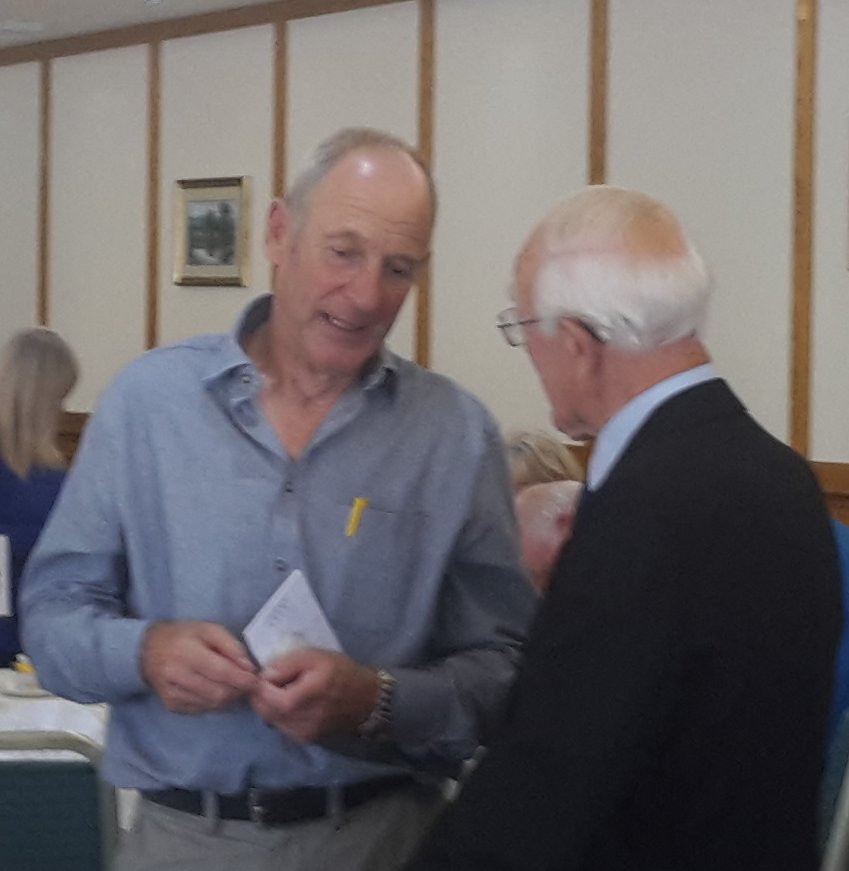 The event was compered by Charlie Williams and after hearing about these sterling efforts said that he is taking a collection box back home to put in the local motorcyle dealer.
TT 2018 Lap of the TT Course, 29th May
On Tuesday 29th May we were fortunate enough to have front row seats on a coach trip around the TT course with commentary by the current President of the TTRA ex TT Rider Richard 'Milky' Quayle, the proceeds from the ticket sales are to be donated to the charity.

The commentary was superb and delivered at break neck speed giving many insights into how a rider learns to navigate the course, Milky told us that some corners can take up to three years to learn and his objective was to keep as straight a line as possible. His knowledge of the TT course is passed on to the newcomers who he coaches for a long time over the winter months before they actually take part at the TT.

Jan & Bob Allison



Frances Thorp has a Lucky Escape
On the afternoon of Saturday 21st January Frances and a friend were involved in a head on car crash on the road between Patrick and St Johns on the Isle of Man.

Mike was driving home when a car drove straight into them. The other driver was travelling down the road on the wrong side for about 400yds and came round a corner and colliding with Mike's car.

Without the air bags and seat belts things would have been so different. Mike managed to get out but Frances was trapped in and they could not open the door as her door was in the hedge.

Police, Fire, Ambulance plus the Test Station manager, were out from both Peel and Douglas stations. Mike has bad chest bruising and Frances has badly bruised ribs but are both walking, talking and back driving.
The 5th Annual FoTTRA Charity Luncheon at
The Mount Murray Golf Club
Frances Thorpe our Secretary succeeded in creating an event where members from both branches of the charity mingled and had a good time during a very enjoyable meal.
There was a round of applause for Jeanette who had raised money for the charity by doing a sponsored head shave earlier this year. It was good to see that her hair was growing back in a very flattering short style.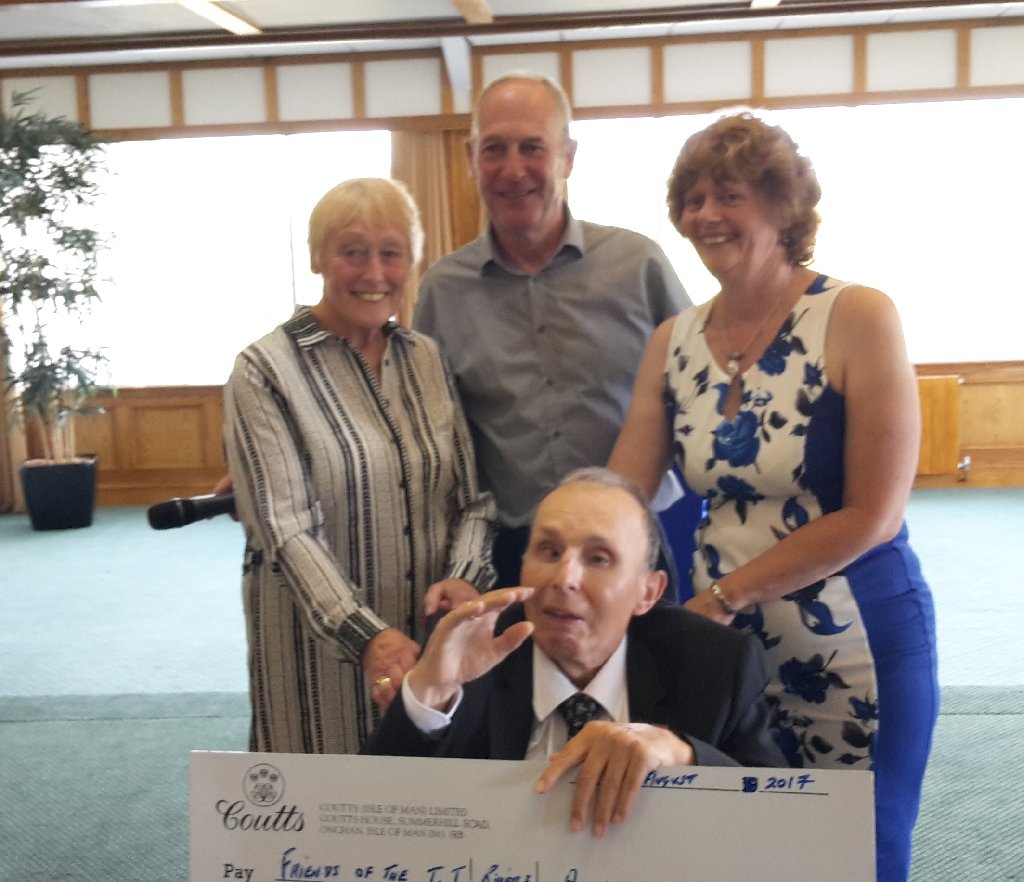 A special presentation of a donation of £600 was made by Robin & Helen Smith. This is in addition the many large donations they have made over many years. Asked about how they manage it; the answer was that Robin puts a collection bucket under their noses and they donate (willingly). This collecting is all done at Hillbery Corner on the Mountain Course.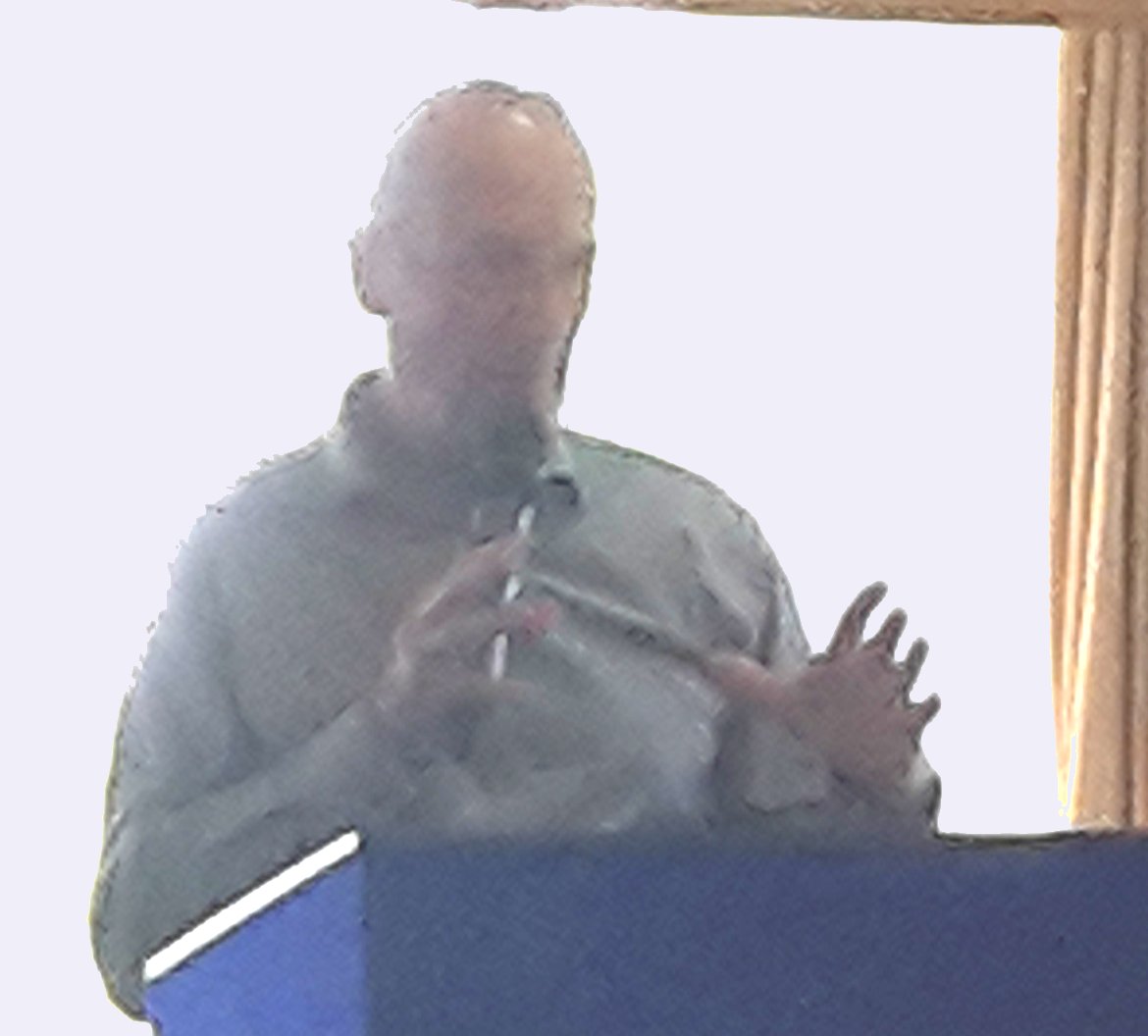 Charlie then gave an enthusiastic account of his fundraising efforts by travelling from Lands End to John O'Groats over a period of 8 days with Mike Farrall on two of his 1930s Rudge motorcycles. The only major breakdown was with a pushrod on Charlie's engine. The account of cutting and shaping a similar one to size on the roadside was a true description of engineering and improvisation which when fitted lasted the final 500 miles of the journey. This journey raised over £5000 split between two charities, one of them being the TTRA.
The 4th Annual FoTTRA Charity Luncheon at
The Mount Murray Golf Club
The fourth luncheon was held on Thursday 25th August at the Mount Murray Golf Club. The three course meal was a great success with three past TTRA Presidents Jack Wood, Nigel Rollason, Mick Chatterton attending. The current TTRA Presedent David Madsen-Mygdal kept the proceedings under control by being master of ceremonies.
We were honoured with a guest appearance by John McGuinness and he entertained the audience with a few anecdotes and stories after the meal.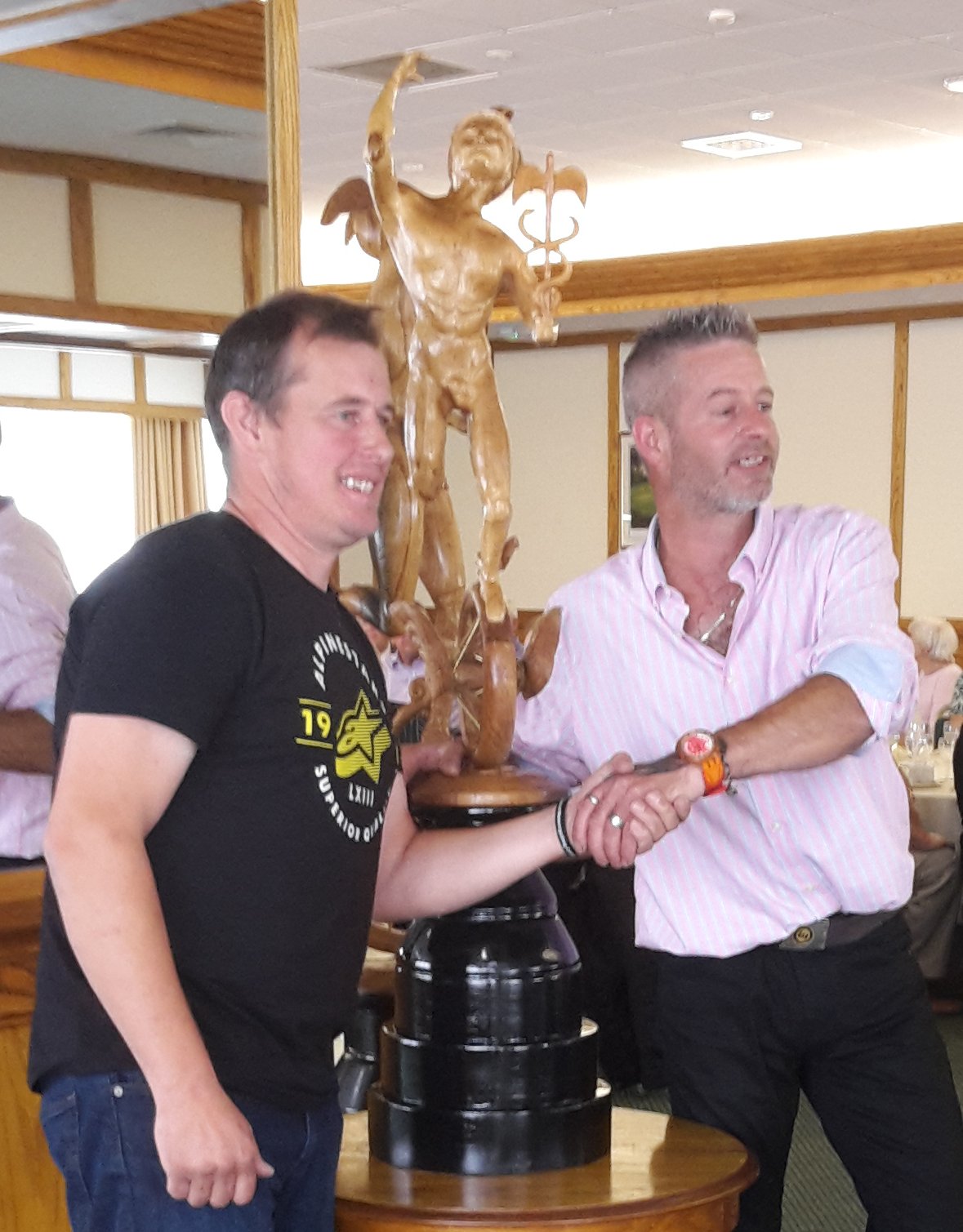 Mr Simon Bogg from Lincolnshire presented John with a wooden carved replica of the TT Trophy. This replica in all its fine detail was carved using standard chain saws from a solid piece of British Oak. Usually Simon uses Chilean timber, but felt that this work deserved a British piece of wood. Remarkably the piece was carved using standard chain saws alone. The final fine finish is sanded and varnished, but only to remove the fine lines left by the chain saw. If you look at the fine detail including the spokes of the wheels you will appreciate the workmanship involved. Simon said that he was told that it couldn't be done and that this was like a "red rag to a bull" and he rose to the challenge.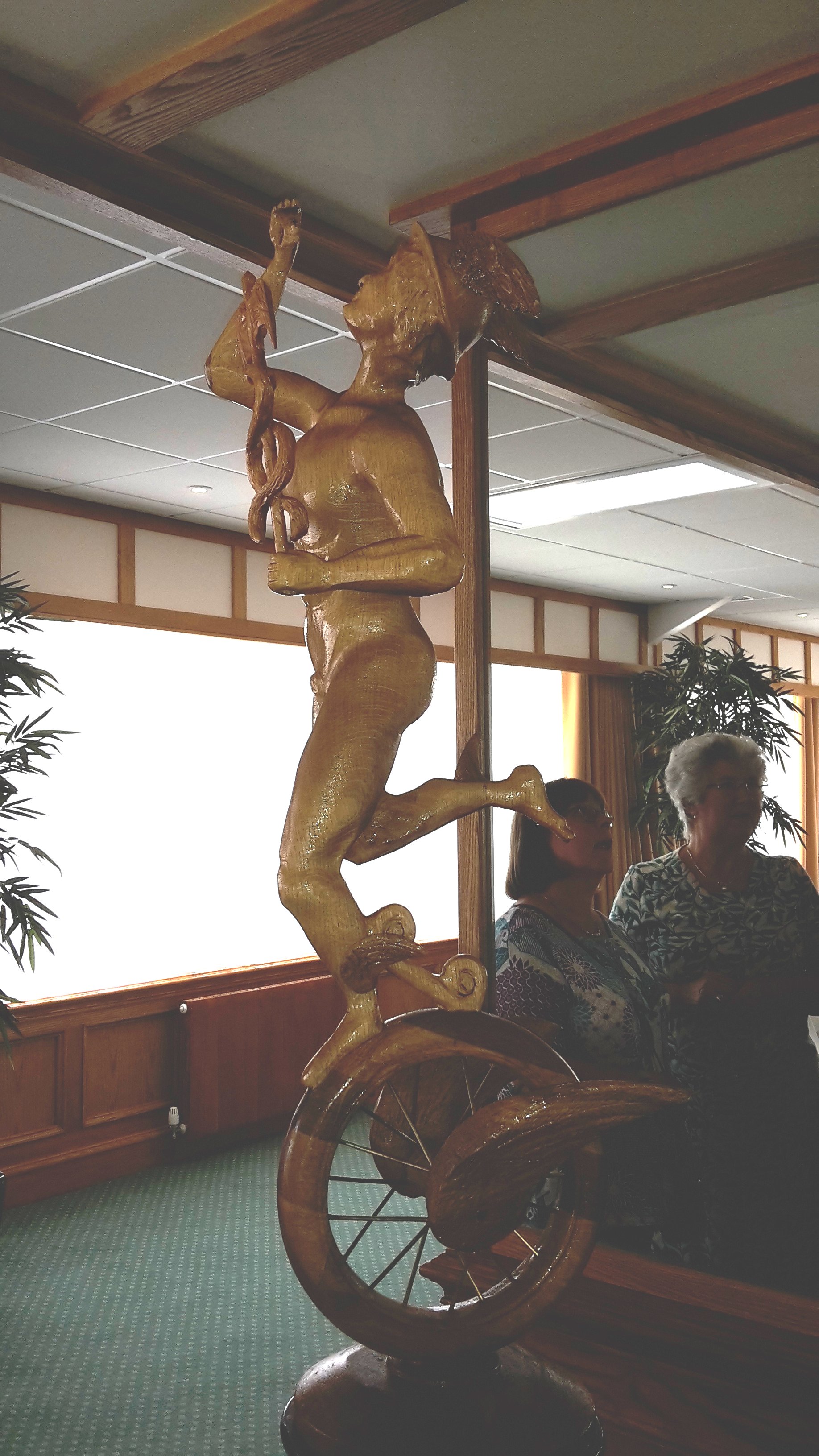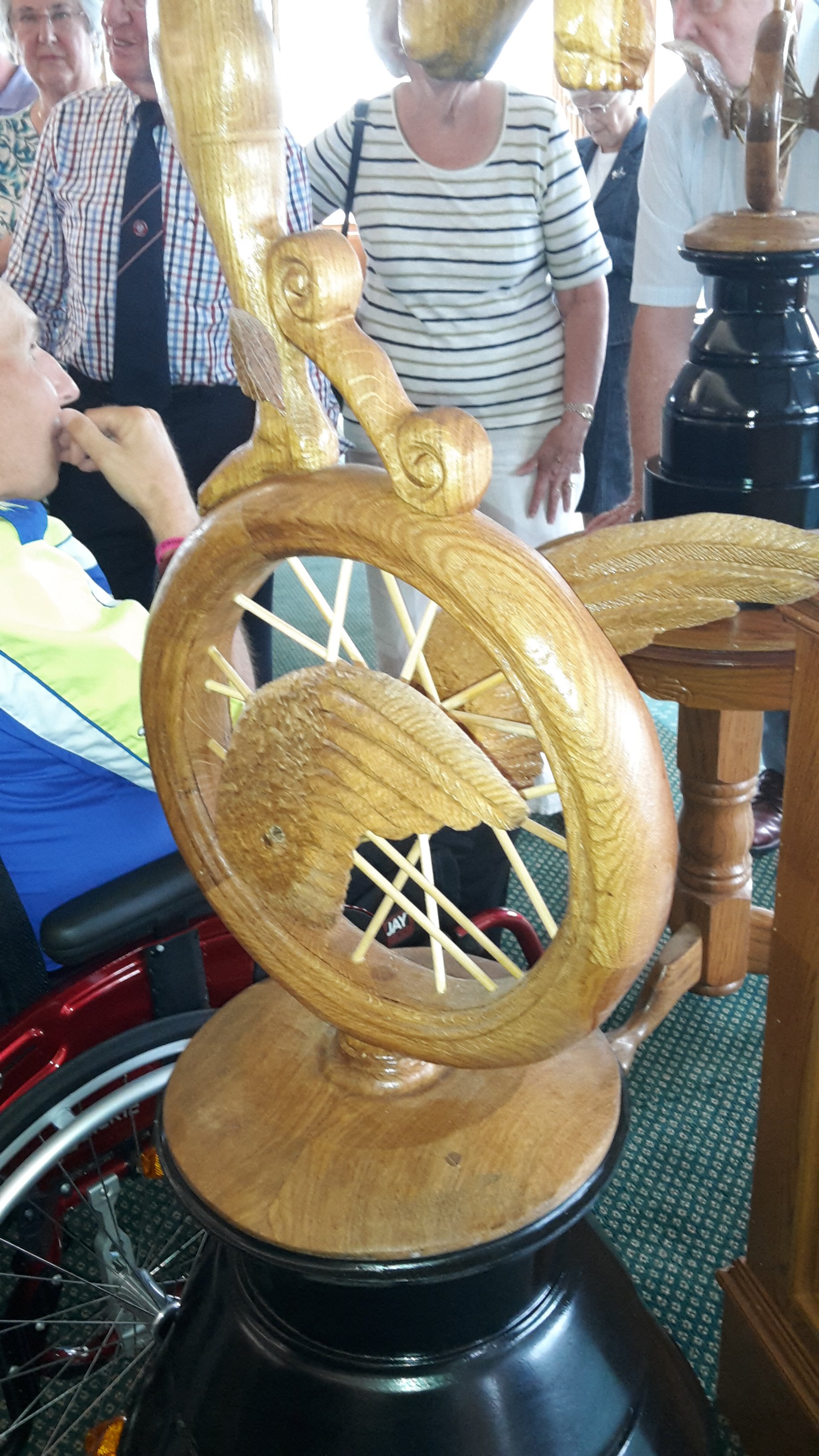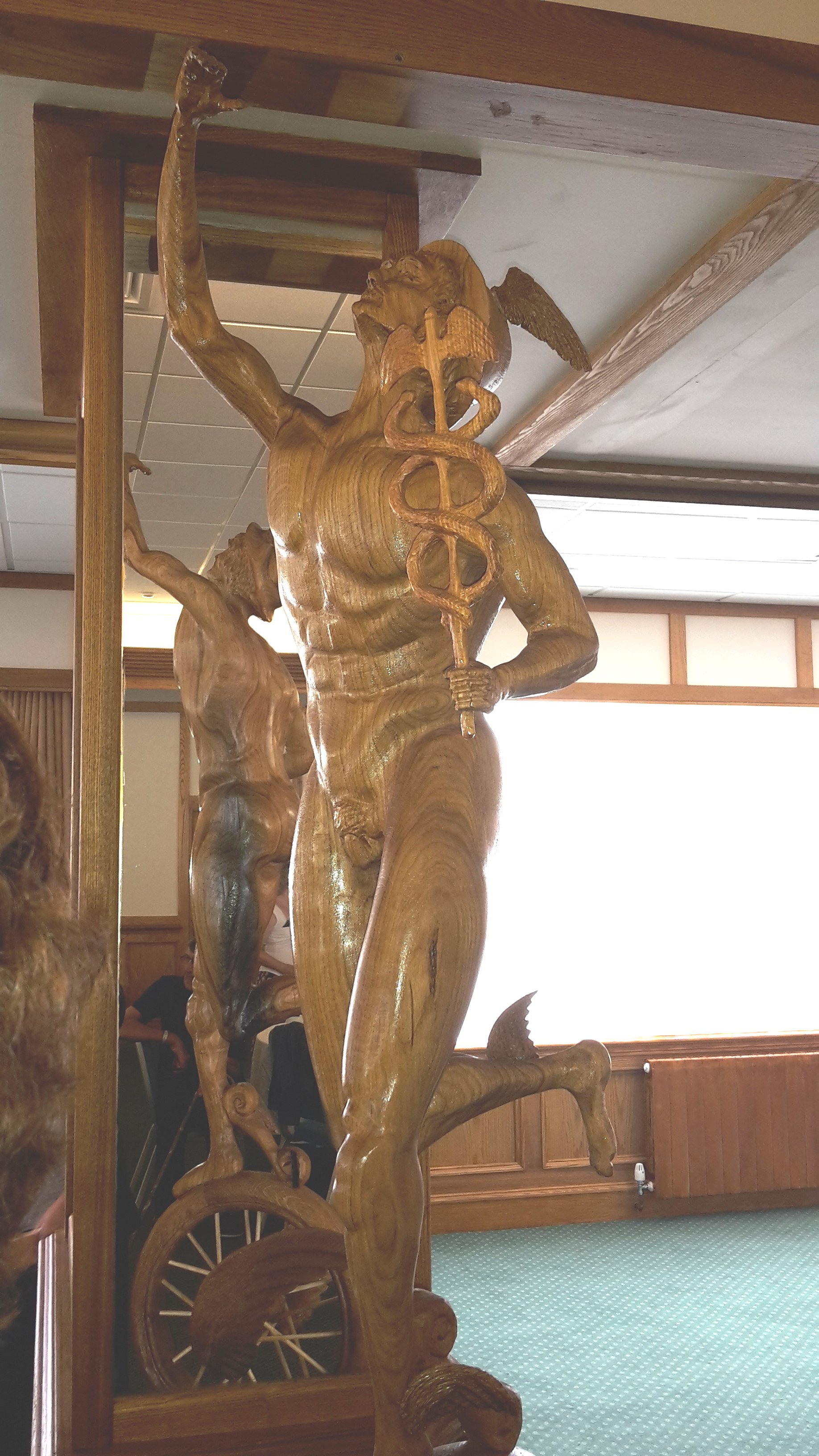 Mr Cunningham the owner of the Motorcycle Museum at Jurby was please to receive a second carving of the trophy which will be on show in the museum, a very apt location for the work.
National Motorcycle Museum/FoTTRA Raffle Results

The winning tickets for the jointly promoted FoTTRA/NMM raffle were drawn on Friday 10th June 2016 in the TT Riders Association headquarters at the TT grandstand, Douglas, Isle of Man.

The draw was performed by the TT Riders Association current president for 2016 Mr David Madsen-Mygdal accompanied by the Hon. Secretary Mrs Frances Thorp.

Licensed by the Isle Of Man Gambling Supervision Commission this special ″international″ raffle was jointly promoted for the purposes of The Friends of the TT Riders Association & The National Motorcycle Museum.

Draw Results-

1st Prize Winning ticket number 05616
1959 AJS Model 16 350cc Motorcycle (see attached image)
Mr Paul Marshall.

2nd Prize Ticket number 05512
Luxury Weekend Spa Break for 2 People.
www.windmillvillagehotel.co.uk
Mr Liam Cosgrove.

3rd Prize Ticket number 05578
£100 National Motorcycle Museum Gift Shop Voucher
Mr Makem Wiik.

For full details see www.thenmm.co.uk


The membership of FoTTRA is very pleasing and in many cases they are making strides into ″Fundraising events″. Last December Geoff Kelly held an evening event at Parr Hall. Warrington which was a great success.

Many thanks for all the effort put into such an event and to all who supported in many ways on the evening. Make a note in your diary it is well worth attending.

Thank you to Mrs Caffyn who has been collecting in the UK; wife of a FoTTRA member and she raised a substantial amount for our funds which is appreciated.


New members
Helen B.Gibson. Castletown. Douglas
Peter Hodkinson. Stockport
Jack Fairclough. Wirral
Julie Wheeler.Louth. Lincs
Arthur (Art) Bone. Mexico
Sir Robin Miller. Huntingdon
Norman Quayle. Onchan. Isle of Man
Mr Paul Hipkin. Greeba. Isle of Man
Mr Xiavier Hipkin Greeba. Isle of Man
ANNUAL CHARITY LUNCH. ISLE OF MAN
I am delighted to report that the ″ Friends of the TTRA ″ (FoTTRA) enjoyed a Charity Luncheon which was held Friday August 22nd Practice week at the Mount Murray Hotel. Santon Douglas.
A welcoming glass of wine/fruit juice awaited the guests on arrival followed by a 3 course Lunch, tea/coffee and mints.
This event was well supported and compered by Charlie Williams. There was a special announcement made with regards to a new Patron who had been appointed to the Friends which was Mr Peter Duke, He was invited to say a few words and was delighted to tell us about his father the great Geoff Duke OBE who of course we are all wondering how he is. Peter assured us that he was comfortable and still shows an interest with what is going on. He was aware of the luncheon and was sorry he could not attend. A ″Thinking of you Card″ was signed by many in the room and Peter assured us he would hand deliver it to him.
The Compere then invited visiting Graeme Crosby to the microphone. They had some amusing banter which was enjoyed by everyone.
The Lunch finally finished and most of us had to go to the Grandstand to attend our stations, so to speak. Thank you to all who attended for your support and generous donations on the Tombola.
Interesting Articles
Written by Malcolm Wheeler, himself a past T.T. rider, and now a Director at Mortons Motorcycle Media, the article covers the history and background to the T.T.R.A.
[Read the full article...]
About the TTRA
The T.T. Riders Association is the only Isle of Man registered charity in motorcycle racing for motorcycle racers. If you start a T.T. race you can join for £45 - for life subscription (resignation not allowed!)

No other qualification applies. Over 1,000 members enjoy the benefits of the Association.
[More...]