Tourist Trophy Riders Association | Supporting TT riders and their families.
How to join the T.T.R.A
Have you ever raced in the Isle of Man T.T. Races?
If you have, are you a member of the T.T.Riders Association?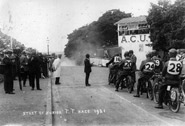 Start of 1921 Junior TT
It is only possible to be a member of this exclusive "club" which was formed in 1951 by racers for racers if you have these qualifications.
If you wish to join please contact the hon. secretary
Frances Thorp.

On email:
francesthorp@manx.net

By Post:

T.T.R.A. Membership
Attn: Frances Thorp
Mountain View
Glen Maye
Isle of Man.
IM5 3BJ
Download a PDF version of the Application Form
Registered Charity No. 546 (Isle of Man)