Tourist Trophy Riders Association | Supporting TT riders and their families.
UNDER THE CHEQUERED FLAG
"The TT is the manifestation of every human emotion..of victory, of triumph, but sometimes of tragedy and pathos.
President Tony Jefferies former TTRA
It is with great sadness that the TTRA have lost one of their Past Presidents who was always in the front line for supporting the Charity.

Tony was a larger than life character and will be greatly missed.

Rest in peace from us all.

TT Riders Association.

Tony passed away on December 29th. Tony's brother Nick posted this heartfelt tribute:

"So sad to lose my amazing brother, Tony Jefferies today. He always showed the most amazing tenacity and stoicism in the face of adversity.
He was brave, cheerful, fun and larger than life throughout his 73 years, despite facing the sternest of challenges.
His loving daughter Louise Jefferies is devastated, just as I am too.
Gone, but never forgotten Tony.
DJ will welcome you with open arms"



---
Ken Sprayson

With the recent sad passing of Ken Sprayson the TT has lost one of its greatest characters and the TTRA a great friend and supporter. For more than 50 years Ken was known to all competitors as the man to go to for any welding job no matter how big or small. You took your place in the queue whether a works team or a newcomer and received expert attention from Ken and his amazing skills with a welding torch, all for no charge.

After his retirement Ken still attended the TT and Manx every year until quite recently and spent a lot of time in the TTRA 38th Milestone telling stories of his lifetime in racing to the many visitors.

Ken did work on machines for the most successful riders over many years at the TT but put just the same effort and care into helping the also rans. We will all miss him.

Mick Chatterton


---
" I am of an age that remember Ken quite well, especially at the TT where, throughout the seventies, his welding service was a key feature of the event".

"I can well remember standing in the queue to the entrance of his workshop with others, probably clutching a fuel tank or some other part of the bike waiting to have Ken work his magic on whatever it might have been".

"However, it was a very long time before those days that Ken had been a key figure at the TT and within motorcycle competition in general. He was very much admired and respected by all that knew him, I consider it a privilege to have been one of those people". "I remember Ken as a polite, gentle sort of chap, always ready to listen to riders problems and to help out whenever he could, thats not to say he didn't have his own opinions and could be quite forceful in voicing them when necessary".

"Ken was a top engineer of the "Old School" and I'm sure he will be sorely missed by all that knew him".

RIP Ken Sprayson.

Charlie Williams


---
I first met Ken during my first TT in 1971 when I was sleeping in a small 2 berth tent in the paddock with my friend and helper and with my 125cc Yamaha racing machine between us!

During practise my petrol tank split and I was told by another rider to go and see Ken Sprayson in the paddock who could weld it up for me. I was a young newcomer at the TT that year and very much just another ordinary rider in the paddock. When I went to see Ken with my petrol tank there was a couple of top TT riders there having welding jobs done by Ken. Ken stopped what he was doing and asked how he could help me and showed just as much interest in me as the other top TT riders. From that day on over the years I got to know Ken very well and we became very good friends and he was always the same polite, helpful and respectful person that I first met in 1971. He was a true gentleman.

Ken had many very interesting stories of riders and teams at the TT going back many years and was always very interesting to listen to. Ken simply was a good man who did lots to help so many riders at the TT of all levels and he will be sadly missed by us all.

Rest in peace my friend.

Neil Tuxworth


---
I first met Ken at the 1967 T.T. when I joined the queue in Nobles Park gardeners workshop, where Ken carried out his skilled work in his blue Reynolds Tubes overalls offering advice to his customers as to why their bike parts had probably broken, before adding an extra gusset or support. l came away smiling with my repaired silencer bracket welded better than it was when it left BSA! I visited Reynolds Tubes several times when working for BSA in1969, seeking out Ken for advice on modifying the rear frame for more ground clearance, as l had replaced the 19" wheels with 18" to lower the centre of gravity and save weight, Ken cleverly modified the tubes by cutting the piece where it touched the ground then welding a flat plate over it. I raced the bike at Imola, and the MCN Superbike championship, never having any problems with this super modification. The bike is still somewhere in the UK. Ken was a gentleman, a brilliant designer and loyal to both Reynolds Tubes and the riders, supporting us at the T.T. even after Reynolds ceased to send him to the island with their backing. It was an honour and privilege to have known and worked with such a lovely, talented, unassuming man.

Kind regards Bob Heath


---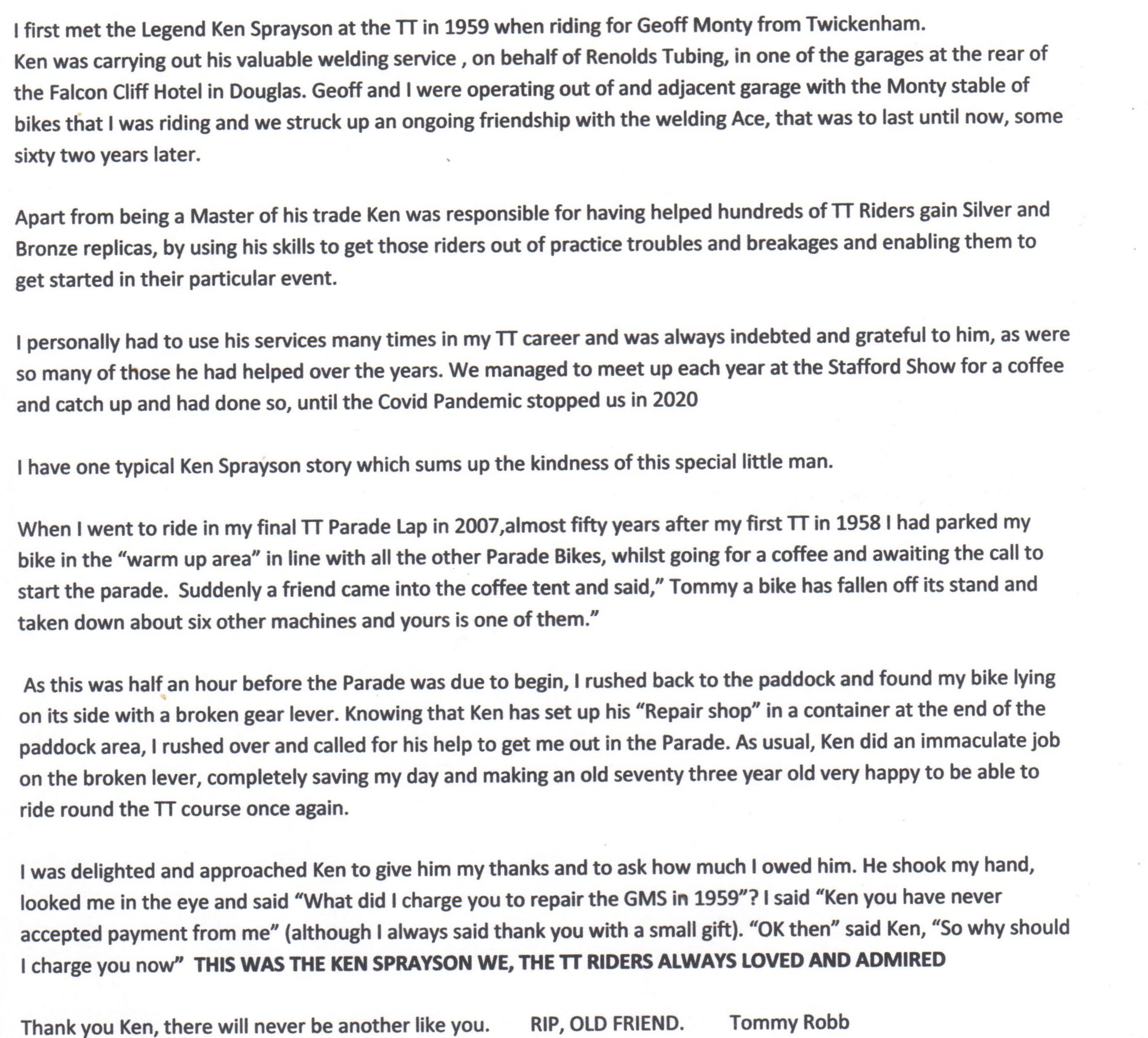 ---
What a great guy Ken was and a legend at the TT inthe old days. He was an absolute ace with the welding torch and all for free at anytime day or night when we were in trouble. I n my first TT (1961) I dropped it at Glentramman on my 2nd. lap of practice when you think you know it all and Ken did a magnificent job straightening the many bent frame tubes plus realigning the steering head with the swinging arm pivot.

Over the many years I competed at the TT he was always there to weld or braze the broken bits day and night if any of us were in trouble.

I also owned and raced the NSU Rennmax twin which he had wrapped a new frame round in the fifties for Reg Armstrong for Geoff Duke to ride and as you would expect it handled faultlessly. It has been an absolute privilege tho have Ken as a friend for 60 years and to enjoy his many racing related stories. I think we shall not see his like again and his departure is a sad loss for us all.l. RIP Ken.

John Kidson


---
Ken Sprayson was recognised for his ability to be able to repair and re-model any problem on frames that you could imagine. He was situated in his small workshop at the Grandstand and there was rarely a time when he was not sorting someone's bike out. he has been heralded the only person for many many years capable in that field.

Ken was a very quiet person and just listened and then would say " leave it with me " I will see what I can do.

My recollection of Ken was in the 50's at the time when Geoff Duke asked Ken who worked for Renold Tubes to make a frame for the Velocette. I recall going to Renolds to watch the progress on this bike. Eventually I was given the privilege of using the first bike in the TT, Ulster, the North West and other meetings. Geoff did a couple of practises on it but of course he was racing on Gilera's.

Ken eventually retired from the Grandstand as there was a re-development program going on. This was a very emotional move for Ken.

RIP my friend.

Jack Wood
Ex Clerk of the Course for 16 years


---
My memories of Ken by Frances Thorpe.

He was always polite, pleasant and cheerful and always there to give a hand if asked.

At the TTRA 38th Milestone which he frequented everyday with his opening words, Oh, another massive breakfast I have had to eat. His long standing landlady I recall might have been Italian and believed in large portions. He said she stands over me while I finish everything on my plate. We always had a laugh.

He was very interested and a strong supporter of the TTRA and the Friends. Ken spent many hours in his latter visits enjoying the constant stream of members and visiting members from the time gone by, he had such a catalogue in his brain going back to the deep past . It was great for me as I was in the distance of hearing. When he wrote his book that was fascinating, many would see him and want the book signed, he was always proud to oblige. David Ashworth from Lexicon Bookshop in Douglas, endorsed my comments and said how polite he was at the book signing in his shop and in fact he has a photo of Ken in the shop with many other riders who have had book signing sessions. The Hall of Fame for writers. Ken was the very special one to so many.

Ken was awarded the Sword of Mann for his contribution to the Island over the years. He actually conducted the welding service for 63 years without taking a penny whether for visitors or riders, all were treated alike.

The first job Ken took on when he arrived each morning at the 38th was putting up our two flags, he used to tell us there was a special way it had to be done, hopefully we will retain his instructions.

The other great day he enjoyed was the TTRA Annual Luncheon in B.ham meeting up with so many he knew, his very good son-in-law Dave was never far away to assist him when needed. Thank you Dave.

I will close by thanking everyone for their contributions and please if you have any stories to tell we would like to hear them. Ken's involvement over the many years going back to the 50's are a tribute to what can only be called Ken was one in a million and will never be forgotten by so many.

Rest in Peace my dear friend.

Frances Thorp


---
Older news
Murray Walker
OBE March 2021 A very passionate Patron who admired and praised all our work and was always generous with personal items for the Auction.
Peter Williams
March 2021. Past TT Rider and TTRA President who passed the President Chain of Office over to Joey Dunlop who very sadly had a tragic fatal accident in a matter of weeks after the presentation.
Rex Evans
, Competed in five 125cc TT races between 1961 and 1965
Mick Hemmings
, May 2021, made many friends in the IOM known for supplying and selling gearboxes used by classic racers.
Geoff Tanner
, March 2021 aged 93yrs. Starting with the 1954 Clubmans TT Geoff raced in the Island until the 1961 TT. In 1955 he was a double winner of the Junior and Senior MGP. Finishing 3rd in the 1958 Junior TT Geoff also had success in continental GP racing.
George Linder
March 2021. Started his MGP career by finishing 2nd in the 1977 senior race and winning it the following year. Moving to the TT in 1979 George rode in all classes until 1990 also competing in the classic MGP events culminating in victory in the 1988 lightweight. His last Island race was the 1992 classic lightweight MGP.
Peter Ogden
of Stockport. passed 2020. Raced with Stan Nightingale in 1965,1967 and 1968 sidecar TT races.
Tony Willmot
passed away recently, He rode Nortons in the TT between 1964 and 1969.
Chris Vincent
passed February 2021. Chris competed in the TT from 1962 to 1972 famously winning the 1962 sidecar race on a BSA, the first British machine to win since 1925. He also competed in 7 solo TT races and won British Championships on 2 and 3 wheels.
---
The Sad Loss of Alan Holmes December 2020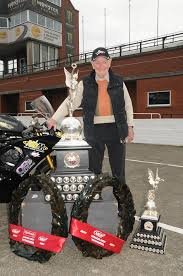 The TTRA were saddened to hear of the passing of our member Alan Holmes only a few days after celebrating his 91st birthday.
Castletown man Alan of course will always be remembered for achieving the MGP Junior and Senior double in 1957 the first Manxman to do so.
Moving on to the TT in 1958 on semi works Nortons Alan was robbed of a leaderboard finish in the Senior by a carburettor problem. Unfortunately, Alans career was cut short later that year after fracturing his scull at Oulton Park which left him with occasional double vision giving him no choice but to retire from racing.
Alan was always very supportive to the TTRA and keen to express his gratefulness for the help received to enable his return to his beloved Isle of Man.
---
The Sad Loss of Peter Williams December 2020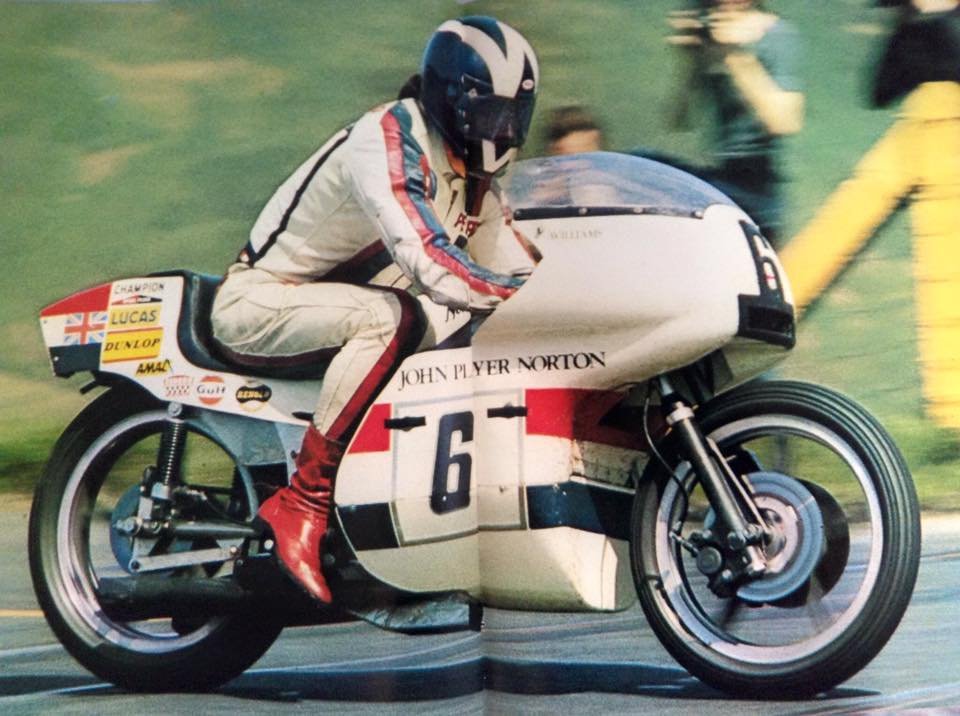 Peter Williams former president of the TTRA and one of the greatest riders of the 60s and 70s sadly passed away on Sunday Dec 20th. Not just a brilliant rider Peter was known as a prolific designer and engineer in the motorcycle field including the development of a monocoque chassis design which he pioneered when working and riding for the John Player Norton team culminating in victory in the 1973 F750 TT.
Even after a racing accident at Oulton Park in 1974 which left him with life changing injuries and ended his riding career he continued to work on future design with great enthusiasm for the rest of his life. Peters passing is a great loss to the TT and the racing world in general.
---
Billy McCosh
. From Ballamena, Passed away April 2020. Multiple times Ulster Champion competed in the TT from 1960 to 1974 finishing 6th in the 1956 Senior TT.
Tony Rutter
. Former TTRA President passed away March 2020 after a long illness. Tony was one of the most successful and popular British riders of the 60's and 70's. He won 7 TT races and multiple events both on the roads and short circuits.
Colin Seeley
. Former TTRA President passed away December 2019. had a very successful sidecar racing career between 1961 and 1967 including a 2nd place in the 1964 TT. After retiring from racing he began a very successful business producing British racing machinery after the factories stopped production and was seen by many as the saviour of British racing.
Rod Coleman
. Former TTRA President passed away August 2019. 93 yrs. As we will all remember Rod from New Zealand and became an AJS works rider who won the 1954 TT Junior Race. Was part of a well respected Motorcycling family in New Zealand.
Les Archer Jnr
. passed away December 2019.Following in his fathers footsteps Les was one of the biggest names in motorcycle sport in the 40's and 50's.A successful all rounder Les competed in the TT in 1947 before concentrating on scrambling in the 50's becoming European Champion in 1956.
Barry Myers
has passed away. After doing the Manx in 1937 Barry rode in the TT from 1937 to 1950.
Sandy Berwick
passed away August 2020. Sandy competed in the TT from 1985 through to 1991 mainly on Suzuki machinery in the F1 and production races.
Dennis (MAC) McMillan from Surrey
. Passed away April 2020 aged 77 yrs. He raced in the TT in the 70's, He did a lot of club and endurance racing which he shared with his son Ricky.
Dennis Christian
passed away 2020 age 91. His first ever road race was the 1949 Junior Manx Grand Prix on a Velocette. His best result was runner up in the 1953 Junior Manx to good friend Frank Fox.1954 he was 4th in the wet Senior won by George Costain and the following year returning to the podium with third place in the Senior on a G45 Matchless.
Johnny Crick
. passed away October 2020. Mainly known for his sidecar exploits on the short circuits, John from Barnsley only did two sidecar TT's in 1970 and 71. he returned to compete in 2F1, 4F2 and 2 Production races until 1980.
Carl Ward
, passed away October 2020. Very well known on the northern circuits in the 60's and early 70's, Carl had a long Isle of Man career, starting with the 1961 MGP through until the 1974 125 TT, riding in all classes up to 750cc. Carl from Leeds was the elder brother of former TT star Steve Ward.
Eric Cheers
. Passed away May 2020. A very successful rider on the northern circuits particularly Oulton Park, Eric made his debut on Isle of Man in the 1953 Clubmans races moving to the MGP the following year. From 1955 to 59 Eric competed in the TT before taking a 28 year break returning to do the Classic MGP from 1988 to 93.
Stan Dibben
Passed away recently He was born 1925. After wartime service in Canada plus working as a professional musician over there, Stan started working for BSA before moving to Norton in the late 40's. There he worked in the race shop under Joe Craig building and developing Manx Nortons which included testing at MIRA with the works rider of the time. He also built and raced his own Manx on all the British circuits including the Isle of Man. In 1953 Norton were keen to add the Sidecar world championship to their solo successes and Joe Craig sent Stan off to work with Eric Oliver on this project which included acting as passenger even though this is something Stan had never done before. Stan incidentally never agreed with the term passenger as a description of a sidecar racing partnership. Eric Oliver with Stan won the 1953 World Championship. At the same time Stan was riding his own 500 Manx at all the GP's for a little extra start money as it was well known that Norton Motors did not go over the top when it came to employees' wages. Stan rode in a further three TTs with another top English rider Cyril Smith before retiring to work as race representative for Perry Chain and also Dunlop Tyres. In 1964 Stan worked on the Bluebird land speed record bid in Australia before taking up a position with NGK spark plugs in 1965 on their introduction to Europe. After writing and publishing two books Stan was still giving talks and making personal appearances until quite recently and of course never missed the TT.
Newsletter Spring/Summer 2020
Llewelyn Ranson
passed away at the wonderful age of 102 yrs. In his long life he accomplished so many things, raced almost anything on 2,3 or 4 wheels. I received the copy of the Celebration of his life Ceremony and to say he had a great and interesting life would most certainly be an understatement in anyone's book. If anyone would like a copy I am happy to send one. A worthy read. My involvement of course is that Llewelyn was a member of the TTRA and every year at the luncheon he made his presence known and we always had a few words. His last trip with his lovely daughter Ann in his 99th year when they stayed for a couple of days at the Manor Hotel which allowed us to have some time together. One of the nicest gentlemen as everyone who knew him would agree. It was a privilege in my life to have known him. Tony Godfrey. Passed away in December 2019 aged 86.Tony was the first non-Japanese rider to represent Yamaha, in the early stages of the 1963 Lightweight TT.He challenged for the lead, but a locked gearbox led to the serious crash at Milntown. His life was certainly saved by the efforts of a doctor on the newly introduced rescue helicopter service. He has always indelibly been linked to being the first rider in TT history to be transferred to hospital by "air med" His last and final year at the TT in 1967 he finished 6th in the inaugural Production 750cc race won by Hartle on a Triumph twin, Tony aboard a Norton. From Southampton, he served his time as a draughtsman with the Folland Aircraft company on the Hamble penisula. He worked on the Gnat, the jet trainer originally flown by the Red Arrows. After packing in racing he became a drummer in a jazz band and driving instructor. The above information was supplied by Chris Oliver his mechanic.
Dave Mahan - Sidecar
Tragically passed away in Castletown.
Brian Mee
passed away aged 80yrs April 2020. Sidecar racer in the TT Races for 10 years between 1970 and 1980
Pauline Hailwood
sadly but peacefully passed away recently and our sympathy goes to her beloved son David and his family. Pauline had suffered poor health for some months.
Dick Hawes
died in October 2018. Dick competed in the sidecar TT races for an amazing 42 years between 1966 and 2008. He was on the podium with a third pace in 1974.
John Hempleman
passed away in August 2019 aged 86 yrs. Former Grand Prix Motorcyclist from New Zealand, 1960 250cc and 500cc classics.
Peter Middleton
died in May 2019. Yorkshireman Peter was a very successful rider on all the northern circuits in the late 50's, particularly Scarborough. He started his MGP career by finishing 2nd in the 1957 Senior Newcomers race and two years later was the winner of the 1959 Junior MGP, before moving on to the TT for a further three years. Ken Kavanagh died in November 2019 aged 96 in Italy. Australian Ken was a works rider for Norton and Moto Guzzi 1952 Winner Ulster 350cc GP. 1954 Won Belgium GP, 1955 Won Dutch GP.1956 Winner TT 350cc. 1st Australian with a Mandelo bike. And one of few riders who rode V8 engined 500ccMotor Guzzi. Percy Tait died in November 2019 aged 89. Percy was one of the most popular English riders over a 20 year period. After finishing 6th in the 1954 Clubmans TT he rode in the TT for the next 20 years gaining a 2nd place in 1975 Classic Senior TT.
Chris Perria
known for his part of being our archivist in the early days before my time and writing books on British riders and bikes.
Carlo Ubbiali
recently passed away.He was 9 times world Champion between 1951-1960. Ubbiali also achieved 5 TT wins 4 on the 10.79 miles Clypse course and a final victory on the 37.73 mile Mountain course. In 1956 he won both lightweight races in one morning. The Italian "maestro's" first two years on Mountain course riding for the Mondial factory earned him 2 runner up places in the lightweight 125 races behind Cromie McCandless and Cecil Sandford.
Roger Stopford
passed away recently. Very enthusiastic member and will be missed.
Wilson Craig
passed away suddenly September 2019.Well respected Northern Ireland race team owner who achieved many successes in the TT Races.A great supporter of the TTRA.
Tony Scott
Died January 2019. A Highly regarded race engineer from Preston who prepared many engines for numerous TT winners.
Steve Millard
passed away May 2020 aged 79 yrs. Steve raced a 7R and G50 in the 60's and ended up with a TD1A Yamaha. He did the continental circus for a couple of years and ended his racing on the mainland series in the 70's. He and Reg Thomas got together to start TeeMill tours and gave many hard up punters a cheap way to see the European GP's and Daytona 200 mile race. Although poor health for some years he kept his sense of humour and his positive attitude.
Ralph Whitehouse
passed away February 2020 at his home in Luton.Very keen member.
Walter Scheimann
passed away April 2018. He was one of our German members.
David Patrick
- sadly passed away aged 84.yrs.2018.
John Baker
sadly died September 2019 after a short aggressive fight with cancer. He loved and lived for bikes and travelled around the world following them but his greatest joy was the Isle of Man. Charles Lionel Billingham TTRA belated news. He passed away September 2017 aged 91 yrs.He was the first sidecar passenger to the late Pip Harris a Past President. For a decade in the post war period until the late 1950's in both grass track and road racing events. He also rode with Jack Beeton in TT motorcycle and sidecar events during the mid 1950's with some success and was the proud recipient of a TT replica. Interesting note. The family floral tribute at his funeral was the TT Riders Association Crest, what a nice tribute.
John.S.Brandon
. John started sidecar racing with Cliff Holland in 1965 after having some 10 yrs scrambling at Hawkstone and Hatherton with great success. Oulton Park was his first sidecar race with a win on a A10BSA engine outfit. Lots of success in 1966/67 with Triumph engines but sadly at both TT's he had 2 dnf's. In 1968 John bought the Colin Seeley BMW racing at Snetterton and Oulton Park in 500cc event. With a 5th in the TT, first British pair home. In 1970 with a new home built outfit with 750cc Honda had a dnf at the 1971 TT, 3rd in 1000cc and 9th in 500cc His wish was to be remembered Under the Chequered flag. It has been granted John. Sir Stirling Moss. Passed away in April 2020 age 90 yrs. Although not a Motorcycle Racer, He had raced cars around the TT course. I felt he deserved to have a mention. A legendary British racing driver and the history books call him one of the greatest car racers.
LOCAL RESIDENTS WHO GAVE THEIR FULL SUPPORT AND GENEROSITY TO TT/MGP ENTHUSIASTS
.
Harold Leece
the well known retired market gardener from Greeba died in December 2019 aged 96 yrs. He was recognised for his renowned hospitality to TT race goers, many thousands have been raised for charity by the sale of teas, coffees, cakes and sandwiches to fans in his front garden and lining the hedges of his fields on the approach to Gorselea. before Ballacraine.
Dougie Christian
. For those members who remember the Farmers Arm Pub at St Johns, otherwise known as the Central around 1989, Dougie and wife Angie ran a very good house and popular eatery. He was cutting a lawn in St John's just a stone's throw from the former Farmers Arms site when he suddenly collapsed with a heart attack and died at the age of 69 in June 2020. Our deepest condolences go to Angie.
John Sutherton
, Passed away July 2020.Well known for the Waterfall Café and Gift shop at Glen Maye. You will all recall when the Sunday meetings with the manufacturers and VMMC gatherings filled up the car park and the main road into and out of Glen Maye was impassable. After the sad loss of his wife Pam he opened the successful Fushia Rooms in the Parliament St Arcade, Ramsey with his highly reputed Menu especially the Fish n Chips Lunch. He originated from Bawtry,Yorkshire.
Newsletter October 2019
The legendary name of
Rod Coleman
93 yrs sadly passed away recently in his sleep. Part of the Coleman family, Rod along with his late father Percy and younger brother Bob were collectively inducted into the Whanganui Sports Hall of Fame in 2008. The family became very successful with their businesses, but it was in the motorsports that the family were nationally and internationally renowned. "Cannonball " Coleman was part of the first New Zealand team to compete at the iconic Isle of Man events in 1930, and then 24 years later, son Rod became the first Kiwi to win there. It is a thank you to Geraldine who was married into the family until she moved back to live in the Isle of Man and who passed the information on to me which I am very grateful for. Thank you Geraldine.
The late
Jim Lilley
, written by a friendship that started at the TTRA Annual Lunch in 1998 and lasted 21 years. Jim was full of stories and knew many of the riders past and present, he was always generous to sponsor many young riders with bits and pieces. Along with many other interests he had, property developer and builder. He owned a race horse who won the King George 1V chase amongst many others. Jim was an accomplished ballroom dancer which was the introduction to Pearl in 1961 who then became his wife, celebrating 55 years of marriage. As his daughter said at his funeral. " A gentleman, mentor, hero and legend " Those of us who met him would agree.
John Thornton
79yrs passed away February 2019. He was a sidecar rider and first partnered with Harold Hill grass track racing in 1958. He started his road racing with Les Wells, Chris Vincent, Bill Boddice, Fred Hanks and Pip Harris. He achieved a 4th place at the Diamond Jubilee Isle of Man.
Daley Mathison
27 yrs tragically passed away here on the Island this year, he was an up and coming rider with prospects of a good future.
Douglas Ibberson
sadly passed away date unknown in 2019.
Mike Adams
sadly passed away January 2019 keen supporter.
Mr Pat McCullagh
keen supporter for many years passed away 2018.
Edwin Bulgin
sadly passed away 2018.
Chris Swallow
very tragically in the Isle of Man Manx Classic Races 2019. Our deepest thoughts go out to Bill his father who was actually racing in the same race, this must be the very worst thing one can experience and sincerely feel for him. There has been so much written about this great son I feel that I cannot add anything to what has already been documented worldwide. Our condolences and kind thoughts go to his wife and children and father Bill..
Rodney Gooch
sadly passed away July 2019.
John Baker
has recently passed away October 2019
Michael Dixon
of Aylsbury passed away Nov.2018
Stan Nightingale
2018 Well known sidecar driver of the 60's competed TT 1959-1969
Reg Everett
4th November 2018. The always immaculately dressed Reg had just two TT outings in TT 1963 and 64. but had much success on the English short circuits.
Rob Foster
sadly passed away 20th November 2018
Mr Rutherford Parkdaill
, Hawick sadly passed away. December 2016
Ernest Sanders
passed away in 2016 Sidecar driver in 1963 TT.
Dick Cassidy
, Many years a Travelling Marshal after racing MGP 1976 to 1978
Clarrie Dunn
– Sydney Australia, passed away 11th November 2018 aged 94. he competed in the 1958 TT on an AJS motocycle which he had picked up from the factory on his arrival to the UK in April of that year, his ambition from being a teenager was to ride in the TT races, having had his first ride on a 2 stroke Velocette with an outside flywheel at 14.
Barbara Wood
27th November 2018. 77 years, much loved and respected lady within the sport of motorcycle road racing for many year. She worked tirelessly with the start of the Joey Dunlop Foundation. IOM. Mum of ex racer Barry Wood.
Barry Randle
sadly passed away recently after a long history of poor health. Barry was always a front runner in British racing through the 60's and 70's. he competed with success in the TT from 1963 to 1977 finishing a marvellous 3rd in the 68 Senior and following that with a 2nd in the 1971 Lightweight and 4th in the Junior
Maurice Mawdsley
remembered for his commentating at Glen Helen.
Martin Rogers
, passed away recently. 2019 . Passenger to Michael Barry TT 1985 and 86.
Fottra members
Joan Sherry
August 2018 wife of the late Robin Sherry. Union Mills.
Joan Doherty
December 2018 wife of Les Doherty. Isle of Man
Joyce Plant
68 yrs, wife of David in Bride. Isle of Man
Pat partner of Tony East
, The Museum, Kirk Michael, Isle of Man Both Pat and Joyce worked tirelessly in the early days of the "Friends of the TTRA" and we respectfully thank you both.
Mr Jones
husband of Barbara, Derbyshire 2018, very generous supporter of the TTRA.
Martin Wasley
, recently passed away, in the Isle of Man.
If I may I would like to make a special mention of
Nigel Rollason
. Past President 2013 It was a big shock to us all to hear the sudden passing of such a dynamic and enthusiastic, high spirited, compassionate man. Apart from his racing career and abilities he was a man of many interests and reached the top of his game in each. He was tremendously proud to wear the TTRA Chain of Office wherever he would deem suitable. (as he would say, it does not really go with the party frock) but nevermind eh! Carole Duckett. Wife of the TT Rider Vin Duckett who has always been part of his racing career and known to so many over the years. In the latter years Carole unfortunately struggled with poor health, but always had her life focused on keeping going and busy. Carole became a very close friend to me and was a tremendous help with the preparation of the Science in Sport drinks, packing and arranging for the competitors to collect. There was nothing she liked better than organising the stock of the regalia. Outside the racing season Carole and Vin became very good friends. Carole and Nigel you were big players in the TTRA and you will be very much missed but never forgotten. Rest in peace.
Derek Yorke
Derek Yorke passed away 2017. He was a formidable, competitive competitor, a true gentleman with a great sense of humour. His other fond talent was his music, he was an accordionist in a group for very many years.
Don Chapman
Don Chapman passed away October 2016 aged 90 yrs. He began his career in the 1951 Junior Clubman on a Douglas and competed for the next 10yrs on 350 and 500cc on Nortons gaining 6th place in the 1959 500cc Formula 1 race.
Colin Jacobs
Colin Jacobs sadly passed away, an accomplished sidecar racer and excellent sidecar chassis builder. Quite a character.
Graham Hilditch
Graham Hilditch was a lifelong competitor and spent many years as a Parader up to a couple of years ago.
Derek H Allen
Derek H Allen passed away August 2016. He competed in the 125cc races from 1956 - 1959.
Charlie Durno
Charlie Durno, no further information only he raced pre-war.
Jack Ahearn
Jack Ahearn -10th April 2017 Sydney.Australia. aged 94 yrs.TTRA member actually raced pre-war before serving in the RAAF during the war. He restarted racing 1947 moving up the ranks with great success in his own country before being chosen as part of the Australian team for the 1954 TT Races incredibly come home 9th in the Senior.
Jack became a professional rider and joined the Continental Circus for the next 12 years where he gained the title of King of the Privateers as he was usually the first man home behind the works riders. He achieved his ambition of a GP win in Finland in 1964 followed by gaining runner up position in that years 500cc World Championship behind the great Mike Hailwood. He continued to ride in the TT until 1966 when he scored his best result 4th in the junior.
He announced his retirement from racing at the end of that year. He ran a motorcycle shop in Sydney but could not resist another crack at the TT gaining a couple of replicas 1974 and 75.
Des Collins
Des Collins passed away in January this year. He was a man for all seasons with a huge interest in many facets of island sport and life in general. A successful businessman, it is 52 years since he and Percy Wilson established Wilson and Collins steel construction company.
Having served in the Merchant Navy in the mid-1950's, he had a close association with offshore sailing that began with a GP14 dingy in the early 1970's and progressed rapidly to a former Admirals Cup yacht. This was followed by a succession of vessels under the name of Billy Whizz that he raced in numerous round - island and other major sailing events throughout the British Isles crewed by friends and serious yachtsman.
Des's motorcycle racing interest started with 1970 Senior Manx Grand Prix winner Roger Sutcliffe on a Suzuki 500cc twin and a 350cc between 1972-1977. Des provided machinery to many riders of TT and MGP since 1970 when he established a team with the late Percy Wilson.
Among those paying tribute is Connor Cummins who says he will always be grateful to Des for helping him to start his career.
Many other riders added their tributes Roger Sutcliffe, Alan Jackson, Gary Carswell, Shaun Harris - New Zealand, Nigel Beattie, Mark Parrett, Dan Sayle and many more.
Thank you to John Watterson in Motorsport.Isle of Man.
COLIN APPLEYARD MBE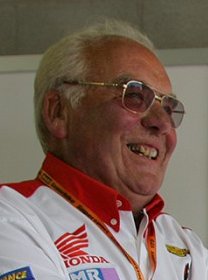 Courtesy Double Red
Colin Appleyard who passed away in June after a long period of ill health was a longstanding and very enthusiastic TTRA member. Though best known for the Appleyard teams in British and World Championship racing over the past 20 years, Colin was a very active competitor in his own right, both solo and sidecar from the late 50s and through the 60s, competing in the MGP from 1956 to 1959 and the sidecar TT in 1969.
After this Colin concentrated on building his motor cycle, car and marine sales business in West Yorkshire in which he achieved great success. This enabled Colin to support his son Robin in his successful British Championship quests and later his World Championship career. Colin was always keen to support up and coming young talent and to this day the Appleyard Racing team can be seen keeping up this tradition in the BSB Supersport class.
A regular TTRA luncheon attender usually in company with his friend Tony Jeffries, Colin will be sorely missed.
GARY CARSWELL
Gary Carswell tragically passed away following a Practice crash at a recent Jurby meeting here on the Isle of Man, Saturday 10th April 2015 aged 46yrs. Gary became one of the most consistent performers in the TT, with no fewer than 30 finishes inside the top 20 including eight in the top 10. He also won the 1997 Senior MGP and came 3rd in the 2004 TT. Gary was a long standing member and had always kept an interest in the TTRA, He leaves partner Lisa and daughter Amy.
SANDOR BITTER
Sandor Bitter - Hungarian, tragically passed away in September this year. Sandor competed in five TT meetings between 2006 and 2014 and was also a regular competitor on the Irish road circuits.
FRANCIS (RUPERT) KNIGHTS
Francis (Rupert) Knights, always known as Rupert died in June 2015 competed in 10 TT races as a passenger between 1968 and 1975, starting off with the charismatic Ronnie Coxon, Rupert also rode with Jeff Gawley and Roger Dixon before teaming up with the German driver Heinz Schilling in 1975 to gain a 4th place finish.
ROBERT SMART
Robert Smart- Southend
WILLIAM (BILL) COLLETT
William (Bill) Collett - New Zealand
MEMORIAL HEADSTONE
I have been asked to mention that there is a significant memorial headstone for a chap called John (Jack) Moore who died following a tragic accident on the mountain during the TT on June 13th.1938 aged 29yrs. In a local Graveyard, Park Rd Cemetery, Cheadle. Manchester.
JAMES (JIMMY) BUCHAN
James (Jimmy) Buchan. Scotsman from Perth passed away in March at the age of 81. He was born into a motorcycling family, his father rode in the Manx in the thirties and his brother ran a motorcycle shop. Jimmy found success early in his racing career in the 1955 Junior Clubmans TT. Later that same year he entered his first MGP with immediate success with 4th in the Junior and runner up in the Senior. But 1956 was to be Jimmy's year as he completed a victorious Manx double in both the Junior and Senior races. He received a civic reception on his return to Perth. Jimmy then competed in the TT for a further three years before then concentrating on his career as a journalist, later becoming sports editor of the Daily Express based in Glasgow.
ERIC HINTON
Eric Hinton who passed away in December at the age of 81 was part of the famous Australian Hinton racing dynasty. Eric along with his elder brother Harry Jnr and father Harry Snr virtually dominated Australian racing in the early to mid fifties. Eric first travelled to Europe in1956 as a member of the Australian team for the TT as his father had done before him. He then became a regular member of the (continental circus) and rode until 1965 with a best finish of 5th in the 1957 Junior.
JULIE SIMMONDS
Julie Simmonds widow of 1969 125cc world champion David Simmonds passed away last December after a long illness. Julie was around the race paddocks for many years being a member of the famous Boddice sidecar family, the sister of our past President - Mick Boddice.
BRIAN RICHARDS
Brian Richards Sadly passed away in January after a long battle with illness over the past four years. Though best known in recent years as an entrant and sponsor of many riders in classic events Brian had a long career as a competitor himself. Starting with the 1961 MGP, then moving up to the TT from 1986 to 1988, before concentrating on the Classic MGP until 1991.
STEVE MURRAY
Steve Murray passed away in February this year after a very long life in motorcycle racing. He competed all over the world including Japan, the USA and Europe but it was the TT that Steve was most associated with, incredibly competing from 1960 until 2000,scoring three 4th positions in the 125 class.
TERRY WINDLE
Terry Windle sadly passed away in September after a long struggle with cancer. Though starting his racing career on a solo Terry soon switched to sidecars, building his own outfit in his shed. Having seen Terry's outfits other drivers were keen to acquire one and over the next 40 years the Windle chassis became one of the most successful outfits worldwide. Terry competed in eight TT's between 1968 and 80's.
RICHARD (DICK) MADSEN-MYGDALS
Richard (Dick) Madsen-Mygdal sadly passed away December 2015. His racing career began in the early fifties riding his own Grey Flash and Black Shadow. He rode the Black Shadow in the 1953 TT Clubman's but unfortunately came off at Brandywell after overtaking a back marker whilst in the lead (that was his excuse) and spent the rest of the TT in Nobles Hospital. Dick retired from racing in 1959 to start his Haulage business and to become a pub landlord
MERV WRIGHT
Merv Wright sadly passed away April in California aged 76 yrs. He was famously the team manager of the world championship winning Texaco Suzuki team of 1976. Merv emigrated from Derby in 1962 taking his Manx Norton with him and continued his racing career in the States. In 1965 he returned to the UK to compete in the Junior and Senior TT gaining a bronze replica for his efforts.
EDDIE JOHNSON
Eddie Johnson sadly passed away. He was a Tynsider and a founder member of the very successful North East Motor Cycle Racing Club. Eddie's first Isle of Man appearance was in the 1958 MGP on an AJS followed by TT rides from 1962 to 1972. Eddie passed away from a heart attack after cycling with friends in January aged 79.
PETER RUSSELL
Peter Russell Leics, sadly passed away early this year. He rode in the Sidecar TT in 1963 and 1964. Peter was recognised as successful on the English circuits in the 60's
WILLIAM (BILL) CORLETT
William (Bill) Corlett sadly passed away 2015 aged 85 yrs. Bill rode with the New Zealand team in the 50's.
GEORGE HARDWICK
George Hardwick competed in 7 TT races between 1973 and 1983 as a solo rider before turning to sidecar racing where he became well known as a constructer of some very unorthodox outfits.
JOHN BLANCHARD
John Blanchard passed away October 2015. He was a non member but is well known, he raced in the 1966 TT. Finished with a 4th in the Snr and 6th in the Jnr. Also 1966 Ulster GP finished 4th. John rode for Geoff Monty and Colin Seeley,
JOHN HOLDER
John Holder. Sadly passed away April this year. John started out with cycle speedway then progressed to real speedway. After National Service he worked for the great Harold Daniel in Forest Hill. He rode many short circuits and the MGP in 1958/60. He was one of the team who broke world records at Montlhery on M.L.G R69 BMW and won the Thruxton 500 mile race in 1961 with Tony Godfrey on a Triumph T120. He later rode his Manx Norton and AJS 7R in classic races on the continent.

Derek Minter (King of Brands) 1932-2015.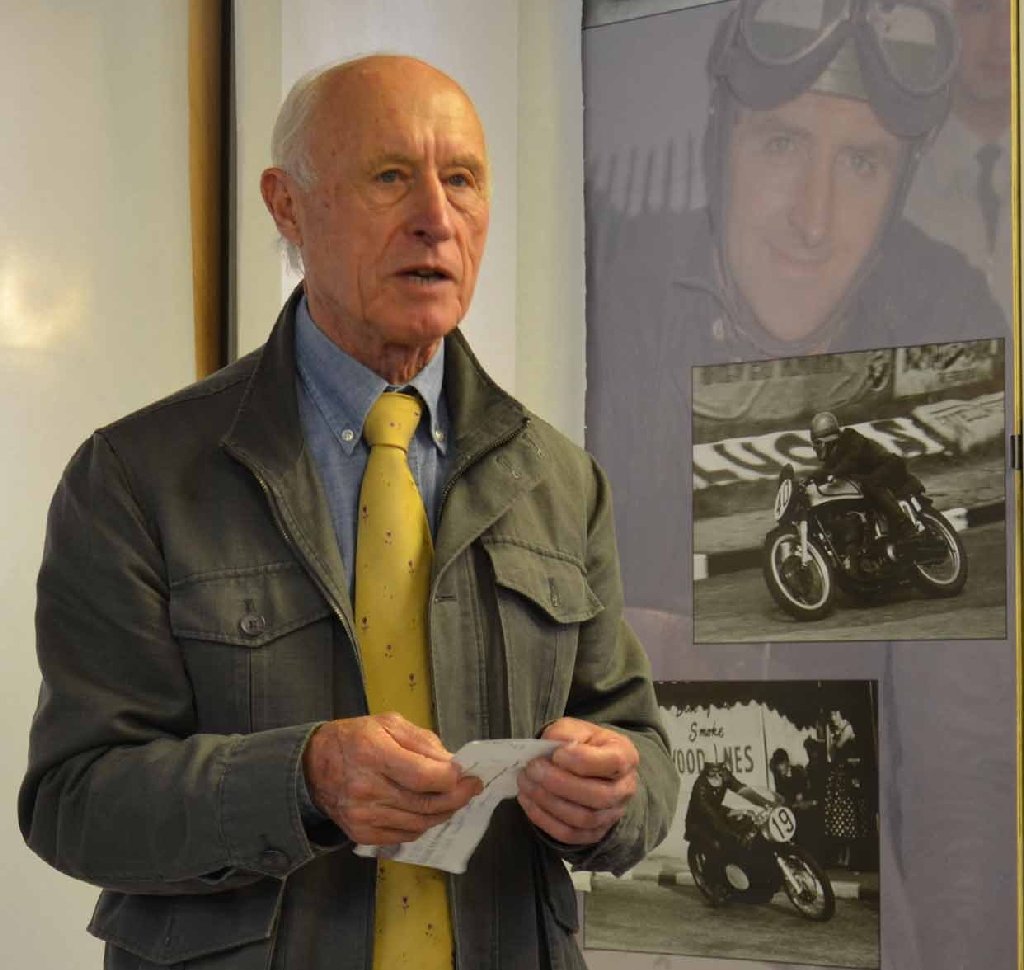 Derek finally shut the throttle in January. What a great rider he was, not only at Brands and other short circuits but also the first rider to lap the Island at 100 mph on a single cylinder machine, albeit followed by Mike a littler later in the 1960 Senior and winning a wager with Stan Hailwood from 50cc Honda to the 500 Duke Gilera. Derek rode in all solo classes and won the 1962 250cc TT on a works Honda 4 in front of Jim Redman and Tom Phillis, almost 2 minutes ahead at the finish. This win against team orders probably cost him a full Honda works ride contract.
Derek had a magnificent array of trophies including 12 silver Replicas and with Colin Seeley. I became involved in trying to find a permanent display for them altogether in one place which Jenny, his wife, was keen to see happen. Sadly Jenny herself passed away last September but I am glad to say that in spite of several frustrating refusals from some of the major motoring museums we were finally able to get them purchased by the London Motorcycle Museum, based in Greenford, Middlesex who have agreed to upgrade and rename their café The Minter Room. Where they will be properly displayed in quality cabinet.
The majority of the cost of this upgrade being supplied with a Grant from the British Motorcycle Charitable Trust of which I am a Trustee. This will all be completed in the next few months, why not pay it a visit at 29 Oldfield Lane South, Greenford. Middsx. Sat, Sun and Monday 10am to 4pm where they have a collection of rare motorcycles.
Written by John Kidson. 2015
The President and Committee would like to thank both Colin and John and all who were involved in achieving this great goal with so much effort and work organising this worthy and valuable collection which will carry Derek's name on.
My personal memory of Jenny and Derek were they came to visit the Isle of Man some 3-4 years ago with their daughter and grandchildren, Derek wanted to take them around the 37.3/4 mile circuit. They arranged to stay in some self-catering accommodation which was in the countryside including farm animal life to enjoy. As it happened it turned out to be just outside my beautiful village. Some 1 mile away. Derek and Jenny came for afternoon tea which was a lovely time spent and gave them both the chance to relax and talk about their life together. Derek was very contented and those memories stay with me, he had achieved his goal being able to have a last visit with his family and been driven round telling the memories he had of the various parts of the famous course. Derek and Jenny R.I.P.
Frances Thorp's memories.
Please support the Museum and make a visit.
The Grand Opening of the Derek Minter Cafe at the London Motorcycle Museum has now been officially opened. Present were Colin Seeley and John Kidson who were responsible for the fantastic display, The British Motorcycle Charitable Trust for their grant aid to the museum to enable the refurbishment of the cafe area to display Derek's collection . The main photo left to right included Dave Croxford, Roy Francis, Paul Smart, Colin Seeley, Bill Crosby (museum founder) Rex Butcher, Ron Chandler,JK, Ian Kerr MBE (museum trustee). John Kidson. Colin Seeley and John Kidson are Past President's of the TT Riders Association.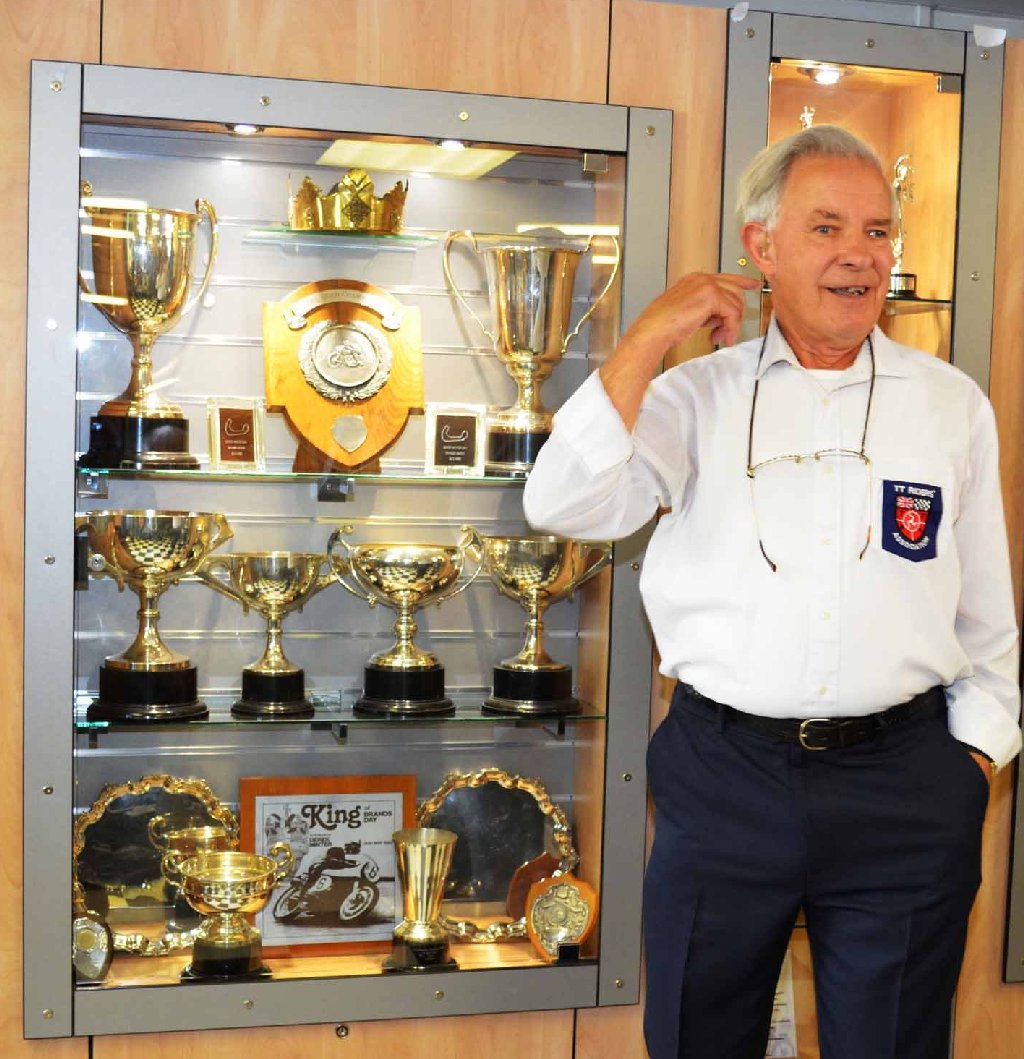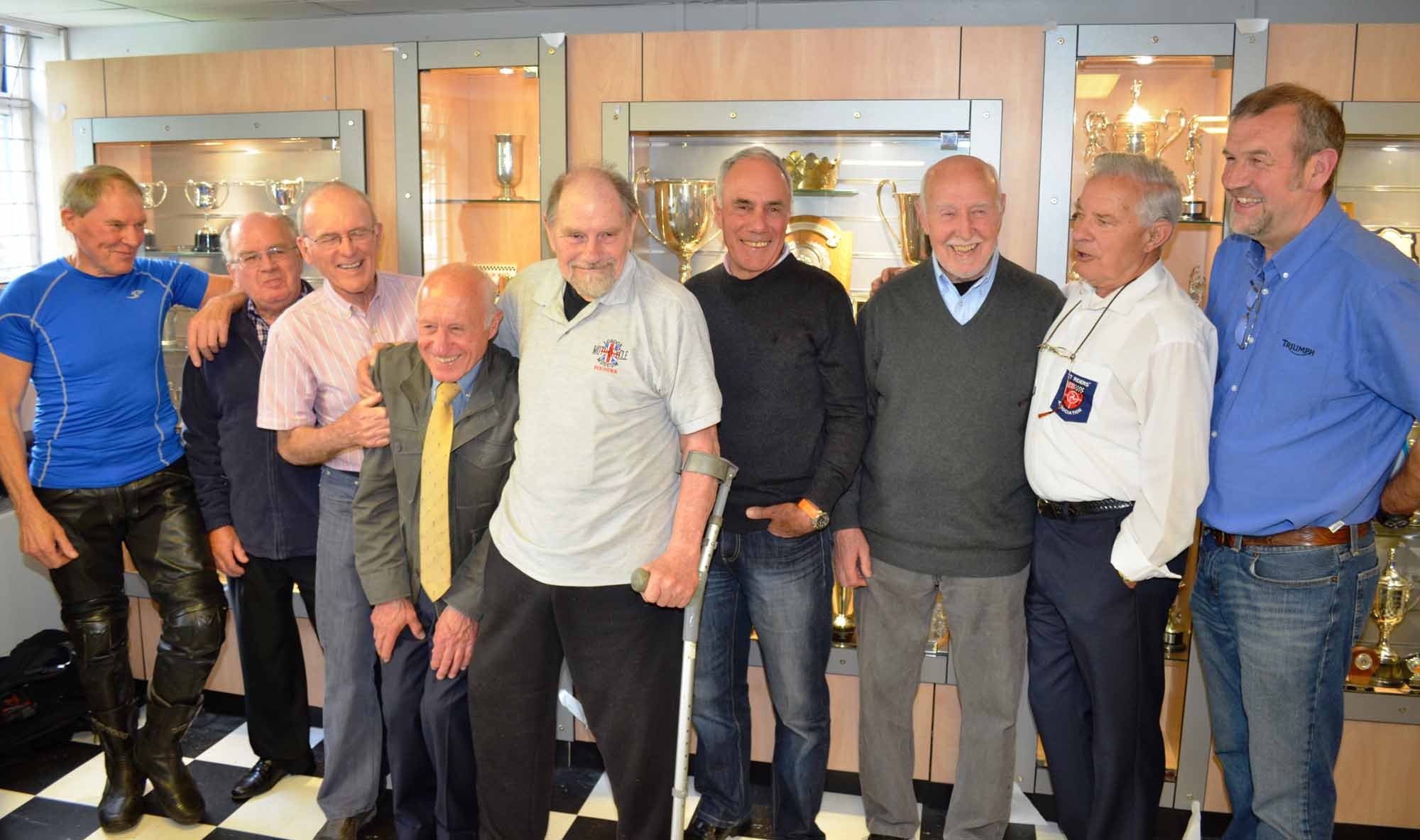 The laughing was caused by someone shouting " Colin stand up " and he shouted back " I am standing up !"
Thank you to Andy Bufton for the photographs.
A TRIBUTE TO FRANK PERRIS. PAST PRESIDENT OF THE TT RIDER ASSOCIATION
One of the Motorcycle racings most charismatic riders passed away in hospital on the Isle of Wight, in March 2015 at 83 yrs with his lovely wife Rita and daughter Tara at his bedside. Frank's final few days were spent receiving his family's love and tender care as he gradually succumbed to the harsh reality of Alzheimer's Disease which first started to effect him as he was still actively riding Suzuki and Matchless racing motorcycles in international Parade Laps in the UK and Europe.
In fact Frank and myself, both rode Phil Morris's team bikes in the hundredth anniversary of the TT, he enjoyed every minute of his 37.3/4 MILE LAP, this actually being the fifty ninth anniversary of his first ever TT lap in the 1951 Clubmans TT. As his ability on racing motorcycles improved throughout the 50's and 60's he started riding in all classes, mostly concentrating in the 350 and 500cc grades on Norton, AJS and Matchless machines.
He was around at the time when the Japanese started to dominate the scene in the early 60's and was quickly snapped up by the Suzuki Management team to partner Hugh Anderson, Isao Morishita, Mitsu Ito and Hans Georg Anscheidt and East German, Ernst Degner and managed to achieve high world Championship placings in the 125 and 250 grades even managing g to wrap his "over six foot stature "around Suzuki's miniscule 50cc championship winning machine, with multispeed gearboxes.
The story could go on, but Frank was a true gentleman and admired greatly. Goodbye Frank, you will always be missed and thank you for all the wonderful memories shared.
Tommy Robb. (for the TT)
It is with deep regret and sincere condolences to all the families concerned, that the deaths of the following are notified:
Robin Udall
Aged 78 years, passed away 18th April 2015. Robin moved into a Residential care home in Lancaster in 2011. Robin rode Solos 125cc from 1963-66. then 50cc in 1967-69 moving to passenger in S/car 1973-75 one year with Dave Mallon. Thank you Alan Capstick.
Richard Standing
Died October 2014. Dick was a competitor both TT and MGP with a mega enthusiasm for the TT Riders Association and the Isle of Man. Thank you Marianne and Rob Foster for the information. Nev. Riley passed away in October 2014. He was a top northern Sidecar racer in early 70's, then TT rider 1973 and 1974 on BSA machines. Thanks, Graham Hilditch.
Derek Skelly
He passed away in December 2014 at his home in Ramsey IOM. He was a TT sidecar passenger in 1975-1979.
Ralph Knight
He passed away November 2014.TT sidecar passenger with Derek Rumble in the early 80's.
Alan (Frank) Rutherford
Sadly passed away March 2015. aged 88 years Alan raced in the Isle of Man some 20 times coming 4th in the 1959 Manx Grand Prix on a Manx Norton - His sponsor was Geoff Duke, He then moved on to the TT.
Nick Nicholls 1931 - 2015
The doyen of motorcycling racing photographers, he took what could be argued the most famous photograph in the history of motorcycle sport, Ago at Bray Hill/Quarter Bridge Road, front wheel aloft in the 1970 Senior TT.
Colin Goldsworthy
He passed away around July 2012. Colin was involved in racing historic sidecars from the late eighties and was a past President of the Historic racing Club of West Australia. Thank you Tom Gill for the message.
Bill Rae
A Scotsman who passed away in June 2014, lived most of his life in Wakefield, West Yorkshire where he ran a successful motorcycle business. Bill competed in 33 TT races between 1963 and 1987, gaining three third place finishes in 1972-73 and 74
Pascall Brennan
A great enthusiast of the TT Races and always accompanied Luke Lawlor.
Mick Woollett
He passed away February 2014. A very well known and highly respected journalist. He was also Sidecar passenger with Edgar Strub and others.
Derek Powell
He passed away April 2013. He won the 1953 Junior Clubmans TT on a BSA and fourth on the 1959 Senior TT he used Norton Matchless and AJS' machine.
Noel Orr
He Passed away August 2014. One time team mate of Sammy Miller on Terry Hills NSU's, he also ran a Motorcycle Shop in Belfast for many years.
Ralph Bryans
He Passed away June 2014. Honda works rider 1964 to 1967 alongside Mike Hailwood and Stuart Graham winning the 50cc title in 1965. Ralph competed in TT 1962-1967.
Joseph Noel Wright
He passed away May 2014. He competed in the 1958 - 1960 TT.
Andrew (Andy) Kinsella
July 2014 very sadly passed away in hospital. A very good sidecar driver. Competed in TT from 1995 to 2004. He was seen in recent years as part of the Ryan Farquars pit crew at TT and MGP.
Adrian Shea
After a very long illness passed away April 2013 Adrian was also a successful sidecar driver in the 80's on the Isle of Man.
Don Tickle,br /> May 2014 in Ontario. A Canadian who rode in the 8 lap 1957 Golden Jubilee Senior but retired after 6 laps. Always kept in touch with an interest in TTRA.
Bob Price
He tragically lost his life in the 2014 TT practices. He raced in both the MGP and TT Races.1992-2014 and achieved podium positions.
Stephen McIlvenna
Died aged 39yrs, from Randalstown in Northern Ireland Tragically lost his life during a qualifying session incident at the 2014 Manx Grand Prix. He did also race in the 2010 TT and was a member of the TTRA.
Charles Brown
He was fFrom North Allerton.Yorkshire Passed away December 2013. He raced 1975 - 1981 both in the Manx Grand Prix and the TT races.
James Law
From Ross-Shire Scotland. Sidecar racer. This is a late entry. James passed away 5 years ago.
Stan Lawley
Aged83 yrs. Newport, Shropshire has passed away 2014.
Cyril Huxley
He sadly passed away July 2014. Cyril a resident in the Isle of Man raced in the MGP back in the late 50's early 60's.
Jenny Minter
With deep regret sadly passed away August 2014. Jenny the dear wife of Derek Minter, lovingly cared for Derek for many years, but sadly endured bad health in the past 12 months, which made it impossible for her to carry on caring for Derek. She actually managed to bring Derek and family to the Isle of Man some 2 years ago and in fact they visited my home for an afternoon. Derek was able to enjoy the fact that the Grandchildren came and he took them around the circuit. Derek is being well cared for and is comfortable, the TTRA do keep in touch with the Residential home.
It is with great sadness to report that William (Bill) Fitton passed away in June this year. Bill was a tremendous supporter both Marshalling and being a Friend of the TTRA. Even at the time of his illness he was always wanting the latest newsy bits about what was going on. We did receive a generous donation from some of his friends in the Peel area and a thank you letter was sent to each of the donors.
Family's tribute to motoring pioneer, Brian Mylchreest
Tributes were paid to Mylchreests Group company founder Brian Mylchreest, who passed away in June 2014 at the age of 97.He held the rank of Colonel during the Second World War, serving in Egypt and leading the Manx Regiment for the Normandy landings. After the war, he returned to the island where he had the voluntary role of aide-de-camp for four Lieutenant Governors. For many years he drove the roads open car for the TT as far back as 1947 in a Riley. Mr Mylchreest was born in the Island and a pupil at King William's College, he founded Mylchreests Group in 1961. Among the honours Brian Mylchreest received were being admitted as lieutenant into the Royal Victoria Order (LVO). and being awarded Order of the British Empire (OBE). On his retirement in 1985 David his son became managing director. 2011 was the company's 50th anniversary which was certainly a milestone to celebrate. Race weeks you will see son David driving the roads open car, of course in a far different speedy car.
The Mylchreest family have certainly supported the Isle of Man races and also are supporters of the Friends of the TT Riders Association. We would like to say thank you.
Taken from the Isle of Man Examiner Newspapers June 17th 2014.with the consent of the Mylchreest family. In memory of Lt.Col.Brian Mylchreest. L.V.O.,O.B.E.,T.D.,L.P.
Thank you to all the families who chose the TTRA to be the recipients of very generous donations in lieu of flowers. It really is so much appreciated and our sympathy goes out to each and everyone of you.
Tom Thorp -1930 - 2011
When I first met Tom Thorp, long before I was the editor of this magazine, I was keen to find out more about the man and his road racing past. Anyone who was lucky enough to meet Tom will know that the last thing he wanted to talk about was Tom Thorp. Modest doesn't even come close.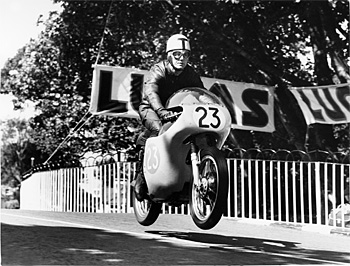 Several years later, and after much gentle persuasion, Tom finally agreed to an interview for a feature I was writing for our sister title The Classic MotorCycle. Five hours later, in the lovely Isle of Man home that Tom shared with his charming wife Frances, I had enough notes to write a book never mind a feature! And I suspect we had only just scratched the surface.
Tom was born in Greenford, Middlesex in 1930 and like so many more spent his childhood dodging German bombs. Getting into motorcycling as soon as he could, he was soon showing his engineering talent by tuning his own machines. I suspect it was his engineering skills that he was most proud of in later life.
His road racing career started with an Excelsior Manxman, bought with a £50 budget, a bike which served him well for a couple of seasons, before it was replaced by a 7R which he ran alongside a self tuned 250 BSA, which gave him a great runner spot in the North West 200 behind Tommy Robb.
Tom's first attempt at racing in the Island in the 1956 MGP resulted in 19th place, and that after an unscheduled stop at Ballaspur for several minutes diagnosing a fuel lock. This was followed by a fine sixth the following year. But it was 1959 that should have given Tom MGP victory as he led the Junior by 90 seconds on the last lap, only for the piston to let go at Brandywell. Tom pushed home for 45th place.
Racing finally came to an end for Tom after a massive accident at Snetterton in 1961, but not before he had raced, and beaten, the very best in the sport. His last TT finish was a fine seventh in the 1962 Senior. It was only bad luck and machine failure that robbed Tom of true greatness. After racing finished he ran a successful motorcycle shop, followed by car and caravan business which was sold in 1984 allowing Tom and Frances to retire to the Isle of Man.
In a happy retirement both Frances and Tom worked tirelessly for the TTRA, with Frances becoming the secretary, a position she still holds. A lasting reminder of Tom's skill and commitment is the TTRA's Isle of Man headquarters, the 38th Milestone.
Tom passed away after a brave battle against a cruel illness. Rest in peace my friend.
Malc Wheeler
Classic Racer Magazine
Keith Heckles 1934-2010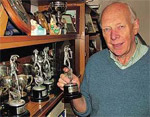 The World of motorcycling lost one of its most popular characters with the passing of Liverpudlian ace Keith Heckles on the 16 January 2010.
Although Keith was known as a Liverpool lad he was born in Crawley, Surrey and it was only thanks to Mr Hitler's blitz that forced his family to relocate to Merseyside, just in time for the Luftwaffe to turn their attention to the area.
With a motorcycling father it was almost inevitable that young Keith would take to two wheels, but early rides on dad's Autocycle could have given no hint of the racing success that Keith would later enjoy.
By 1959 the road going Heckles Gold Star was stripped for racing and he made his debut on the long Aintree circuit and before the end of that season he had his first taste of the Manx Grand Prix.
That first Manx didn't go quite to plan, with a lost sump plug and sticking throttle being just a couple of the problems, but Keith made the start but a close encounter with Sulby Bridge ended his race.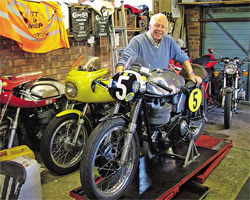 However, success in the Island followed, with a runner up spot in the 1967 Production TT being a high point. But lady luck always seemed to desert Keith in the September races and he was without doubt the best rider never to win a Manx.
Keith was an all round motorcyclist and was quietly proud of the small collection of bikes that graced his workshop, especially his Beart Norton, on which he came so close to that elusive MGP victory.
Life wasn't always kind to Keith, but through personal tragedy and illness he never lost his sense of humour or his zest for fun. He leaves two sons, Paul and Mark, both of whom he was very proud.
I am pleased to have been able to call Keith a good friend and without him the world of motorcycling will be the poorer. God speed old mate.
Malc Wheeler
Classic Racer Magazine
DEREK MORTIMER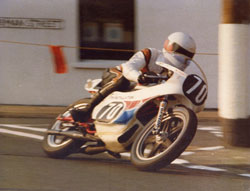 Derek was aged 70 and lived in Bolton, Lancashire.
His racing career began in the early 1960`s; riding Manx Nortons and BSA Goldstars, in nationals and club events, around the U.K.

A switch to the Japanese two strokes, in the early 1970`s, saw him become one of the very first Maxton Yamaha pioneers; and he rode to many club championships at Aintree, Oulton Park, Croft and Carnaby.
Derek first rode the TT in 1973; and anyone who ever stayed at the Grasmere Hotel, in Douglas during the 1980`s, will remember him well. The pinnacle of his Isle of Man racing was in 1978, when he was runner up to Bill Smith in the F3 event; which was a one-off World Championship event at the time.

He retired from racing, after his last TT in 1980, and took up the role of mechanic for his son Richard; who is also a TTRA member.
He was familiar and popular figure around the road racing paddocks in the 1990`s as his skills, as a talented engine builder and welder, could always be bought for the loan of a cigarette. He ended his direct involvement in the sport in 1998; and since spent most of his time in his beloved village of Medano in Tenerife.
Derek Mortimer died on 18th July, 2008, in hospital, after a long battle with cancer. He sadly leaves a wife Maureen and two sons Simon and Richard.
Multi-TT winner Dave Saville dies
Dave Saville passed away on 7 March 2006. Quadraplegic since 1993 following a tragic accident at the Manx Grand Prix classic races, Dave was best known for his heroics on the Sabre Racing F2 sidecar, particularly at the TT where he shared a top score of nine victories with Mick Boddice and Siegfried Schauzu.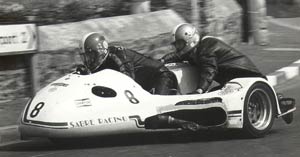 An integral part of the Bawtry based Brindley sidecar clan, Dave's first TT was back in the 1968 750cc race when he finished 10th. It took several attempts but he took his first win in the F2 A race in 1985 and went on to win either one or both races each year up to and including 1990.
His accident resulted in seven years in Southport Spinal Injuries Unit before he returned home, though still needing round the clock care. He missed the Island greatly and a terrific effort by his family and friends succeeded in him being present for a fund raising event at Sulby Glen Hotel, last September.
His efforts and those of his family to give him as near normal a life as possible since the accident is a story of untold bravery and determination. His passing, though very sad, is without doubt a blessing.