Tourist Trophy Riders Association | Supporting TT riders and their families.
T.T.R.A. News
Frances Thorp has a Lucky Escape

On the afternoon of Saturday 21st January Frances and a friend were involved in a head on car crash on the road between Patrick and St Johns on the Isle of Man.

Mike was driving home when a car drove straight into them. The other driver was travelling down the road on the wrong side for about 400yds and came round a corner and colliding with Mike's car.

Without the air bags and seat belts things would have been so different. Mike managed to get out but Frances was trapped in and they could not open the door as her door was in the hedge.

Police, Fire, Ambulance plus the Test Station manager, were out from both Peel and Douglas stations. Mike has bad chest bruising and Frances has badly bruised ribs but are both walking, talking and back driving.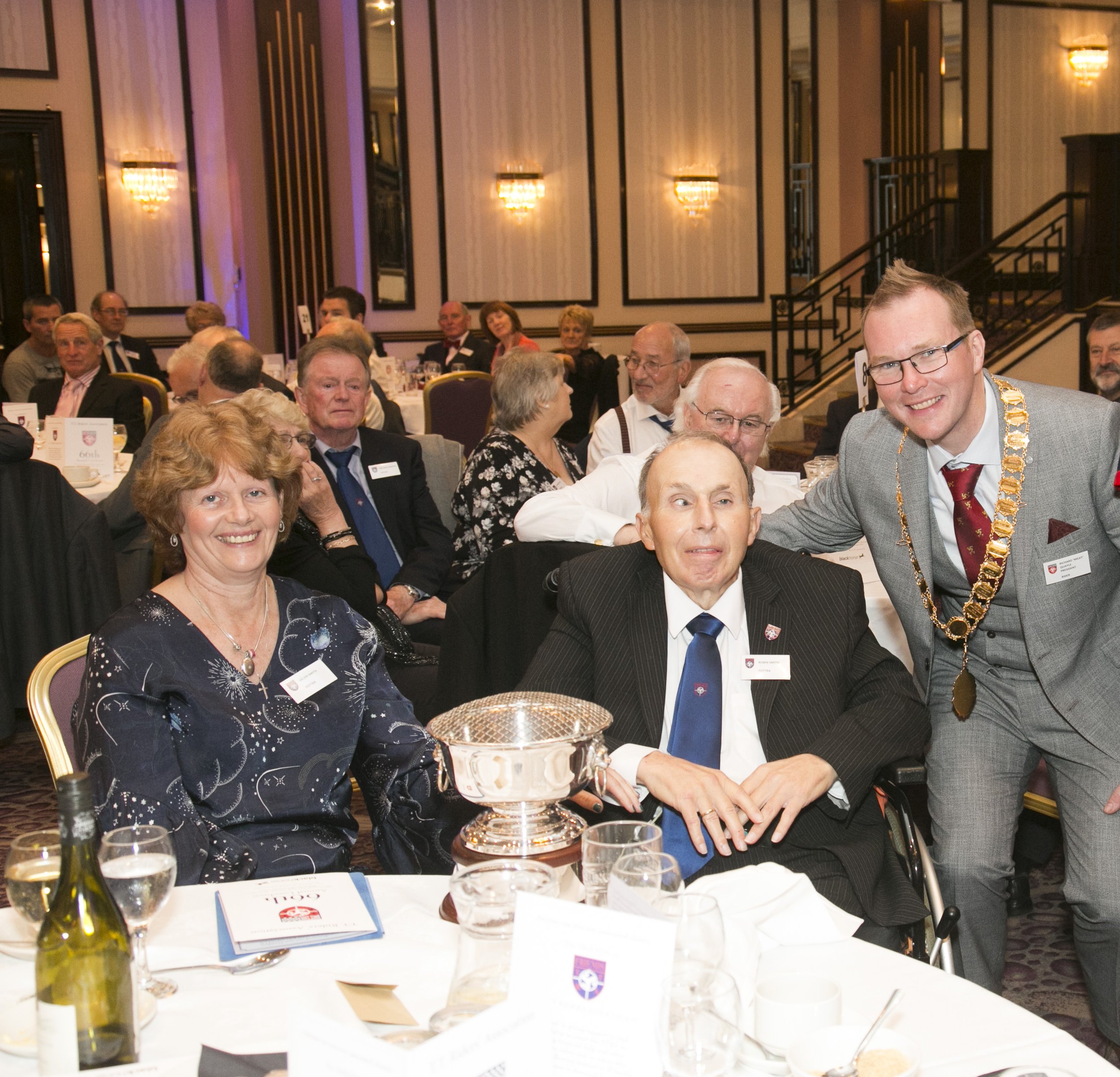 Robin Smith




It is with deep sadness that we have to announce the passing of Robin Smith - 4th December 2017 one of our great fundraisers of the Friends of the TT Riders Association.
Robin and his wife Helen had attended the Annual Luncheon at the National Motorcycle Museum for the first time in October. A surprise Presentation of the Win and Allan Robinson Rose Bowl was made to them for the continuous support and generosity with their fundraising events.
This came as a complete surprise and they were extremely thrilled with the presentation, especially as many of their friends were there to witness the occasion. The presentation was made by the new President Richard Quayle and the Blackpool Town Crier Barry McQueen.
Over the years, many many fans have been made welcome into their gardens at Hillberry to spectate from a fantastic vantage point. Robin and Helen suggested that a donation to the TTRA fund for injured riders would be appeciated for this privilege. Over the years they have donated nearly £15,000 to the sister Charity "Friends of the TTRA", for which we are very grateful.
Donations in lieu of flowers if so desired should be sent to Friends of the TT Riders Association, c\o The Treasurer, Mrs Frances Thorp, Mountain View, Glen Maye, IM5 3BJ. All enquiries please to Eric Faragher Ltd., Funeral Directors, Main Road, Onchan.Tel: 673109 or 622897
Our sympathy goes to Helen, family members and close friends.
Rest in Peace Robin.
TT Riders Association and Friends of the TT Riders Association.
December 2017


Richard Quayle arrives in unusual style by not riding a winning bike for the start of his year as President of the TTRA


Manxman Richard (milky) Quayle has recently become the 66th President of the TT Riders Association at our Annual Luncheon which was held in October at the National Motorcycle Museum, Solihull, Birmingham.
The New President was enrobed with the magnificent Chain of office after his arrival in the Dining Room. The President's entrance into the Dining Room is by tradition always on a winning Motorbike of the President's day, but this year was on a 50cc small collapsible commuter bike which was a big surprise for the 400 + members and guests. This change caused many laughs, as Richard kept going round and round the entrance area. When he eventually stopped and gave time for Charlie Williams our Compere to have an interview with him, his excitement and enthusiasm was very obvious, and to put it in his words, the whole event was awesome!
Richard was very keen to express his hopes for the coming Presidency year and to bring some ideas forward whereby fundraising will be the top of his list.
&copy Mortons Archive





JOHN SURTEES
MBE, OBE, CBE





It is with great sadness that we have to announce that one of the greatest TT Riders and Past President of the TT Riders Association has passed away and we would like to offer our condolences to the Surtees family.

John was a very supportive member and always kept an interest with the TT Riders Association and the great Charity work that goes on with this very worthy cause.

Our thanks for giving so much pleasure and excitement in the world of Sport, he will be sadly missed.

R.I.P.

Patrons, Committee and Members of the TTRA

March 2017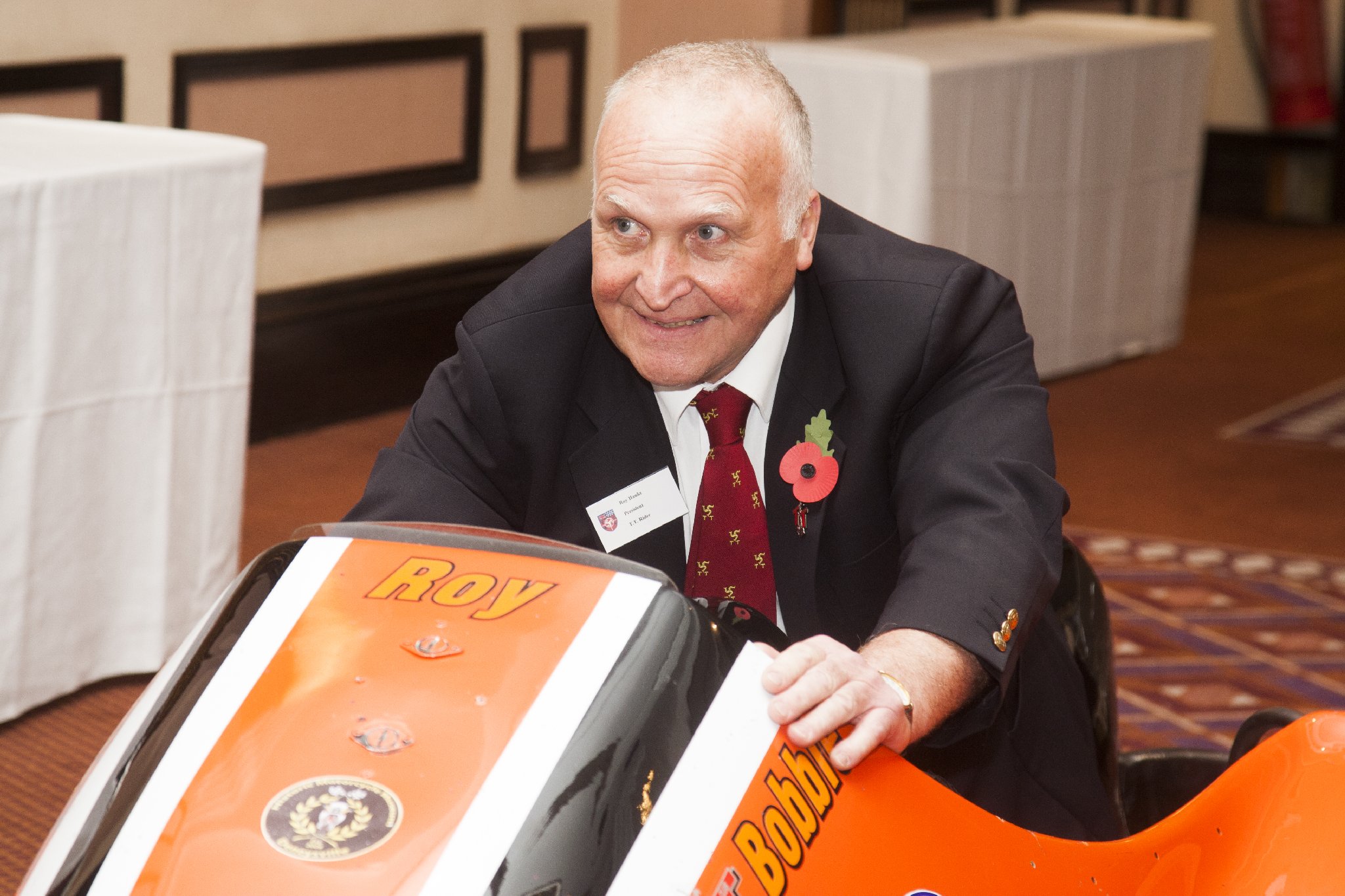 Recent TTRA president Roy Hanks announces his retirement from active sidecar road racing



Recent TTRA president Roy Hanks has recently announced his retirement from active sidecar road racing after completing an amazing 50 years at the TT in 2016. During that time Roy achieved one victory in 1997 and 5 podiums with a succession of passengers including his wife Rose.

The Hanks name has of course been synonimous with the TT for many years with Roys father Fred and brother Norman both being fomer competitors.

In the 1970s when the TT was suffering a bad period for various reasons incuding the crippling expenses for competitors Fred Hanks formed the TT Supporters Club to give all riders some help with costs to enable them to continue.

Since that time Roy and his wife Rose have worked constantly to keep the organisation functioning and providing some assistance to the main bulk of competitors who have to pay all their own expenses.

No one person has given more for the love of the TT than Roy Hanks.


The Isle of Man TT Riders' Association has donated £5,000 to the island's hyperbaric chamber charity
For the past 30 years, the facility has helped riders injured during the races. It has assisted many prominent riders to full recovery when injured, and also helped those who have suffered minor injuries such as soft tissue, muscle or ligament damage, that if sustained during practice week or a prior event, would normally prevent them from starting their race.



TTRA Secretary Frances Thorp, Debbie Barron from the Hyperbaric Chamber,
TTRA committee members Mick Chatterton and Andrew Jessopp


Friends of the Hyperbaric Chamber charity secretary Debbie Barron said: 'Although all riders are asked for a donation towards the service we still must rely on the generosity of others to help us run the facility.'

We do receive support from the health service in the form of an annual grant and in return provide emergency hyperbaric treatments for diving casualties 365 days a year and also up to 15,000 hyperbaric treatments a year for patients referred by a GP or hospital consultants.


Information sourced from iomtoday.com


Shoprite Isle of Man wins the TT Riders Association award for their continued support fundraising in their Isle of Man stores


&copyIsle of Man Newspapers
This award is presented each year at the TTRA Annual Luncheon held in October at the National Motorcycle Museum in Solihull and it is always a surprise as who the recipient will be.

Allan Robinson was the second Secretary of the TTRA, following on from Norman Scott. His wife Win was the driving force behind him, and their work for the TTRA over many years was immense; sadly they have now both passed away. In 2007 Joe Wood thought that it would be fitting to give the Rose Bowl in their memory. He donated the beautiful Rose Bowl to the TT Riders Association and the Friends of the TTRA. Joe was another sterling worker from Southern Ireland who was responsible for enrolling most of the new members in the early days of the Friends of the TTRA. Sadly Joe has passed away but he has left a lasting reminder of his generosity.

The committee accepts suggestions and then selects who is to be the recipient of the award. Many different reasons are put forward and suggested; fundraising is an unseen and very important challenge in many instances, but the financial results for the charity are immense.

Fundraising of any description is vital to the TTRA and Shoprite support us all year round with collection drums in every store. Thank you to everyone who donates their loose change. The TTRA is for the riders of today, and ex riders of yesterday. Every single penny donated goes to the charity; there are no wages or office rents paid. All the committee members are volunteers, and we are not affiliated to any other charity.

The TTRA is a very active Manx Charity formed in 1951 by five riders who helped one of their racing friends and created the TTRA as an organisation to be there for riders of the future. The sole function of the charity is to assist injured TT riders and families in times of financial difficulties.

Our sister charity for anyone who wishes to support TTRA members is the Friends of the TT Riders Association who are our fundraising side. If you wish to know more please contact Frances Thorp, Hon Secretary 07624 402505 or browse this web site.

Congratulations and thank you to all the Shoprite staff who continue to assist us with their contributions.

On behalf of the Committee members. Patrons and Members.

Frances Thorp Hon Secretary TT Riders Association


Alex George arrives for the start of his year as President of the TTRA



New TTRA President Alex George made the traditional ride into the annual luncheon at the National Motorcycle Museum aboard the most famous production racing motorcycle of all time, the 750 3cylinder 1970 Triumph, better known world wide as Slippery Sam, or at least a rebuilt version of it as the original was very badly damaged in the 2003 museum fire.

Alex along with his co rider Dave Croxford piloted the machine to the last of its five successive TT Production race victories in the 10 lap 1975 race.

The machine was given the Slippery Sam nickname by one of its riders TTRA member Paul Smart during its first International 24 hours race in France in 1970 because of an engine oil leak which soaked both him and the bike in the slippery fluid, still managing to finish in 5th place.

Of course our President Alex had many successes during his long career in both Grand Prix and road racing, the most famous being his defeat of the great Mike Hailwood in the 1979 TT which he relived for us lap by lap during his enthralling speech at the luncheon.


TTRA member Peter Hickman celebrated his victory for the second year in succession at the Macau GP on November 19th


Peter beat 8 times Macau winner and fellow TTRA member Michael Rutter into 2nd place after a racelong battle. There were other TTRA members in the top positions, Connor Cummins came 4th, John McGuinness came 7th behind Horst Saiger and Ian Hutchinson was 8th in front of Irishman Derek Sheils, England Dan Cooper and Manxman Dan Kneen


'Big Money' did make big money for charity!
Isle of Man Post Office giant replica 50p coin raised a significant amount for two motorcycle charities in an online auction.



The unique coin, made from lightweight foam board, was produced to promote the TT Legends coin series launched in 2015 and exhibited at the paddock during the 2016 Isle of Man TT, Classic TT, Manx Grand Prix and at the Festival of Jurby.

It has been signed by more than 70 people with connections to motorcycle racing and the TT Mountain course, including 23-times TT winner John McGuinness and a host of other current and past TT racers, MGP stars, TV and radio presenters, leading race officials and global racing greats like Pierfrancesco 'Frankie' Chili.

Now Isle of Man Post Office is auctioning the one-of-a-kind collectable through its
eBay store to raise money for two charities. The auction began on 1st October and runs for 10 days.

All proceeds will be split between the Isle of Man TT Marshals Association and the TT Riders Association, which both play a vital role in road racing in the Isle of Man.

Maxine Cannon, General Manager, Isle of Man Stamps & Coins, said: 'We had this replica created to promote our TT Legends 50p coins, and it was photographed alongside many of the biggest names from the TT and world of motorcycle racing. More than 70 stars agreed to sign the coin, and now we'd like to give fans this opportunity to own a truly unique collectable.'

Update on 11th October

The bids for the coin have just closed at £1001 and the TTRA will receive a cheque for £500.50. With a big thank you to Maxine Cannon, for being the instigator of the idea, Paul and Janet Quayle who collected all the 70 signatures and Aaron Mephan who worked hard spreading the word.

Thank you to all who supported the Auction.





The Winner of the Police Helmet signed by the 2016 TT Riders has been Presented to the winner of the raffle,
Mrs Jane South



Following the raffle to win an Isle of Man Constabulary helmet signed by the TT 2016 riders, the winner Mrs Jane South was presented with it on Friday 22nd July and a certificate of authenticity signed by the Chief Constable at Police Headquarters in Douglas. In total over &pound1800 was raised for the three charities which included the Police Benevolent fund, the ACU Benevolent fund and the TT Riders association.

Upon being presented with the prize Jane who is from Santon said &quotWhen I bought the tickets I thought it would be a nice thing to win, I bought the tickets but never expected to win, Im obviously delighted and the money raised has gone to great causes&quot.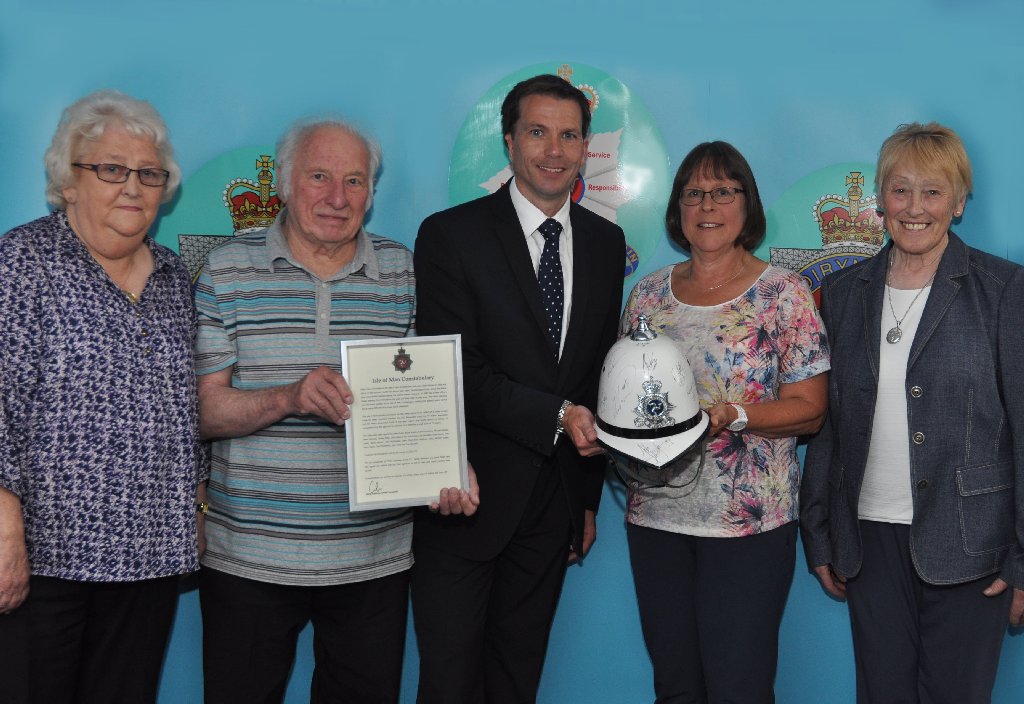 Within the picture presentation are (from left to right) Wyn Evans and Des Evans ACU Benevolent fund, Detective Sergeant Bobby Syme committee member for the Police Benevolent fund, Helmet winner, Jane South and Frances Thorpe of the TT riders benevolent fund association.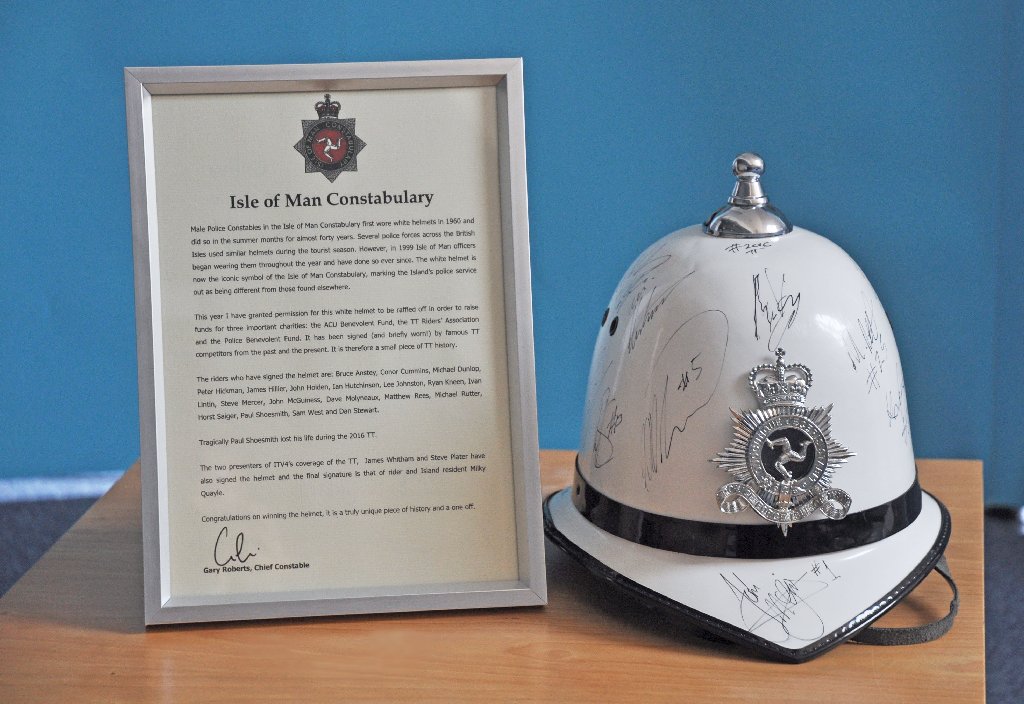 The riders who have signed this helmet are; Peter Hickman, Steve Mercer, Conor Cummins, Bruce Anstey, Matthew Rees, Horst Saiger, Ian Hutchinson, Ivan Lintin, John Holden, Lee Johnston, Michael Dunlop, John McGuiness, Dave Molyneux, Sam West, Ryan Kneen, James Hillier, Michael Rutter & Dan Stewart and the late Paul Shoesmith.

The two ITV4 Presenters of the TT, Mr James Whitham and Steve Plater have also signed it and finally retired TT rider and Island resident Milky Quayle.




Sadly the TTRA lost two of its members in tragic accidents on Saturday June 4th at the TT


Dwight Beare aged 27 from Melbourne Australia lost his life at Rhencullen on the first lap of the sidecar race while driving with Manxman Ben Binns as passenger who suffered ankle injuries. Dwight made his TT debut in 2014 with his father Noel acting as passenger finishing in 12th position. Last year the same partnership ended up with a 17th position finish

Dwight then decided to stay in the Isle of Man to be closer to the racing community and to prepare his outfit for this years TT.

The TTRA wishes to express its great sympathy to Dwights close family and friends.

Paul Shoesmith, better known as [Shoey] died in an accident at Sulby during a practice lap on Saturday evening. Paul 50 from Poynton in Cheshire a successful businessman first competed at the TT in 2005, His best year being 2011 when he gained 15th place in both the Superbike and Senior races.

Paul was also a successful team owner and has provided top class machinery to many riders over the years at all the major road races.

In Saturday mornings TT Superbike race Paul completed his fastest ever lap at a shade under 126mph A real character Shoey will be very sadly missed around the road racing paddocks of the world.



The TTRA wishes to offer its condolences to all Pauls family and many friends.








Big Congratulations to one of our Past Presidents
John Surtees MBE, OBE and now CBE






&copy Mortons Archive

It is with great delight that we send you our congratulations for your recent award of a CBE at Buckingham Palace last week.

As a Past President of the TT riders association we are thrilled to be able to have been a part of your sporting career.

What a tremendous honour to have received the MBE, OBE and now a CBE. It is wonderful that you have been given this award and to say that it is well deserved would be an understatement.

Wishing you good health and thank you for all you have done for the sporting world and the TT riders association.

Kind regards

The TT Riders Association committee and members

March 2016




The Earl and Lady March have been robbed in a violent raid

Thieves stole items including &pound400k tiara, a &pound200k diamond necklace and an Emerald and diamond ring given to the mistress of Charles II.

A masked burglar forced them to open a safe full of valuable antique jewellery. The robber hit the Earl of March with a blunt instrument.

Lord March and his wife remained tied up until the morning, when a member of staff arrived for work. The couple have been devastated by the attack and theft.

It is with great sadness to learn of such a horrific burglary and the terrifying act of assault which Lord March and Lady March had to endure. The kindness and generosity that has been given at Goodwood for many many years allowing 1000's of visitors worldwide to have enjoyed events of a lifetime, it is tragic that this assault should happen to such a great family.

Lord March is one of our longest serving Patrons which has spanned over 30 years. When possible he attends our Annual Luncheon and Fundraising Auction at the National Motorcycle Museum, Solihull. He always makes sure that great items are donated every year to raise funds for assisting injured TT Riders past and present and taking care of older members who may need some help in later years.

It is our hope that Lord March and Lady March recover well and their Heirlooms will be recovered and the assailant is brought to justice. The generosity of this fine family at Goodwood House is second to none.

Our sincere and deepest sympathy and kind thoughts are with you both.

From

The TT Riders Association, Patrons, President, Committee members and all the TT Rider Members.

January 2016




The Sad Death of Richard 'Dick' Madsen-Mygdal
On Wednesday 9th Dec 2015

Richard 'Dick' Madsen-Mygdal passed away on Wednesday 9th Dec at John Radcliffe Hospital Oxford he was 88. He is survived by son and current TTRA President David Madsen-Mygdal, grandsons Paul and William.

Richard lead the 1953 Clubman TT on board a 1,000cc Vincent V twin but came off on last lap at Brandywell fracturing his skull. This was his last competitive ride on the mountain circuit. His memorable ride is captured in a oil painting by David Langford.

Dick's wife Stella who rode pillion to the TT on the Vincent passed away 2013 closely followed by grandson Mark later that year at Southern 100.



The funeral is on Thursday 17th December at the new crematorium
Wantage, Oxford 10am.


Donations in lieu of flowers to TTRA via Frances Thorpe.

David Langford's Tribute can be found by following this link

Some additional info:

A resident of Cumnor Oxford previously the major of the village a jovial position inaugurated by being thrown into the duck pond.

He was a publican, haulage contractor and mechanic.

RIP





Annual luncheon Held at the National Motorcycle Museum Birmingham
On October 28th 2015

The 2015 TT Riders Association Annual Luncheon held at the National Motorcycle Museum on October 28th 2015 was a great success and enjoyed by everyone present. The traditional entrance was made by the new president riding in on his racing bike to the excitement and roars from the members and guests; all 400 of them.

The outgoing president Roy Hanks was there to welcome the incoming new president David Madsen-Mygdal and spoke a few words of thanks. He then expressed how much he had enjoyed his year in office and how he now understood more about how the TTRA works and the good work done by the Committee, Treasurer and Secretary. He then added a few words of encouragement, congratulated David and wished him a happy and exciting year ahead.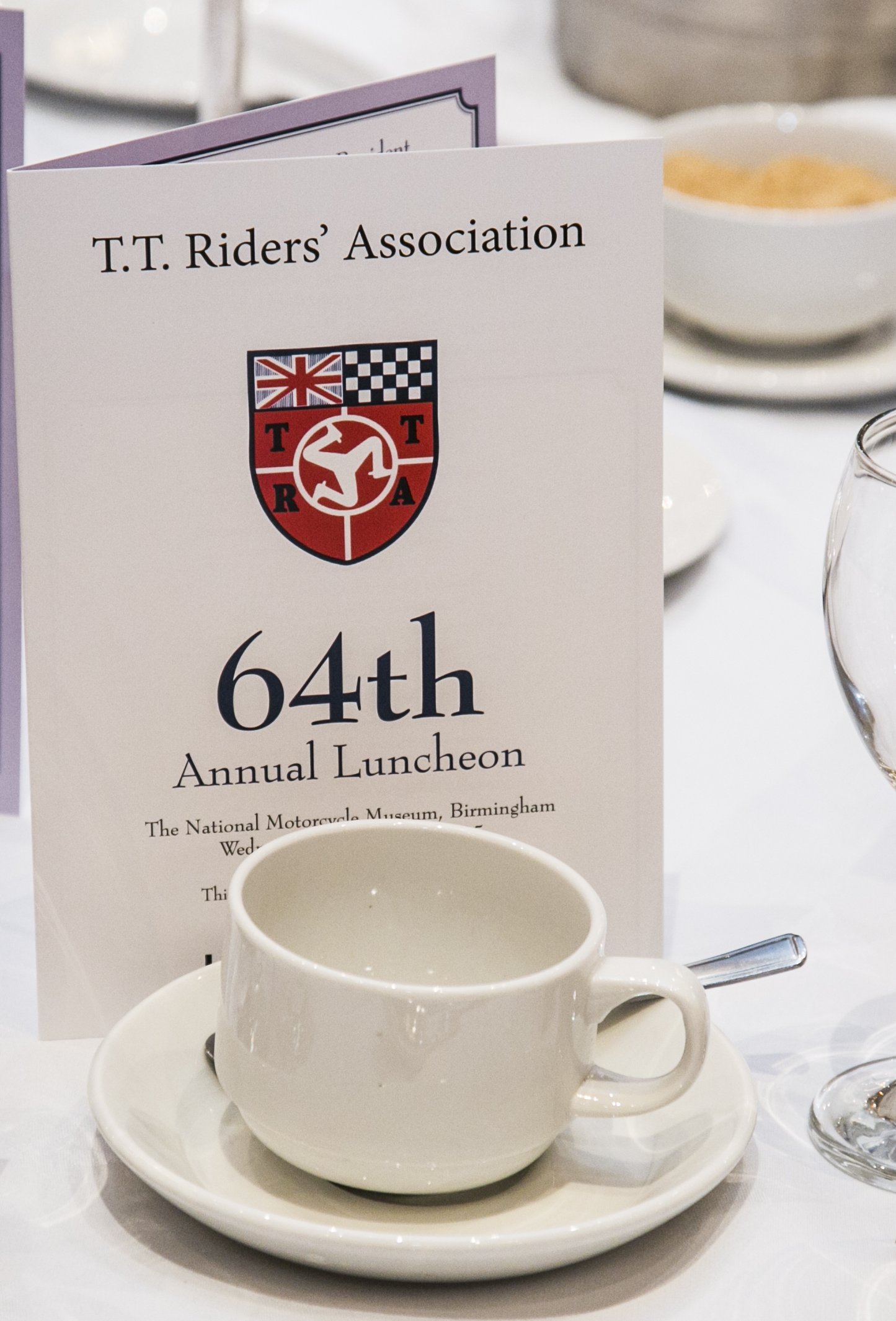 The Luncheon commenced with the following menu, melon, soup, Barnsley chop and fresh vegetables followed by a delicious sweet served with tea or coffee and after dinner mints.

Following the toasts and remembering absent friends there was a list of apologies received which were read out by the compere Charlie Williams and the town crier Barry Mcqueen.

The fundraising auction commenced and was conducted by Mr Malcolm Barber (Co Chairman of Bonhams) and Mr Ben Walker International Department Director. This commenced with some very interesting and exciting items kindly donated to the TTRA from many generous supporters. The sale provides us with tremendous financial assistance for the purpose of helping the injured riders in many ways. The amount raised on the day was nearing &pound10,000 and counting..

The whole event was recorded by a photographer taking many shots of members and guests, firstly in the reception area and then in the proceedings of the luncheon.

If you wish to look at the photographs or even wish to buy one please go on the following website:

www.prestigephotography.co.uk or click on this Link to Prestige Photography

Enter the code number in small box (right hand corner of the home page) of ttra14411

The 2016 Luncheon date is Wednesday October 26th 2016. Come and be a part of it. Email francesthorp@manx.net


COLIN APPLEYARD MBE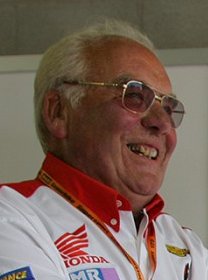 Courtesy Double Red

Colin Appleyard who passed away in June after a long period of ill health was a longstanding and very enthusiastic TTRA member. Though best known for the Appleyard teams in British and World Championship racing over the past 20 years, Colin was a very active competitor in his own right, both solo and sidecar from the late 50s and through the 60s, competing in the MGP from 1956 to 1959 and the sidecar TT in 1969.

After this Colin concentrated on building his motor cycle, car and marine sales business in West Yorkshire in which he achieved great success. This enabled Colin to support his son Robin in his successful British Championship quests and later his World Championship career. Colin was always keen to support up and coming young talent and to this day the Appleyard Racing team can be seen keeping up this tradition in the BSB Supersport class.

A regular TTRA luncheon attender usually in company with his friend Tony Jeffries, Colin will be sorely missed.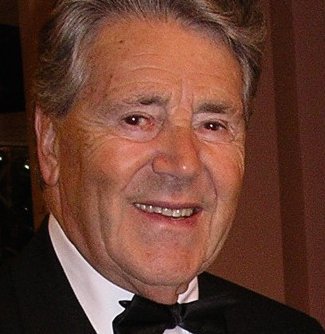 THE SAD DEATH OF A TT LEGEND. GEOFF DUKE O.B.E.
The TT Riders Association are saddened by the loss of one of the most remarkable motorcycle legends of his time. A Past President of the TTRA and a continued generous supporter throughout many years.
There have been many occasions when Geoff has made his presence known with our many members in TT and Manx Grand Prix weeks when he has been relaxing with a cup of tea in the 38th Milestone at the rear of the Paddock. Geoff was a very quiet and charming person which everyone warmed to. He always had time to talk, not only about racing and the glamour of being a 6 time World Champion.
Those of us who are lucky enough to live on the beautiful Isle of Man see from day to day what goes on. Some great residents do to try and improve the Isle of Man by extending interests away from racing. Geoff was one of those gentlemen, astute, charming and very popular. His enterprising ability was well documented.
He was involved in several business ventures, including purchasing and running the former Arragon Hotel on the Old Castletown Road in the late 1950's. He established a successful motor parts distribution company on Peel Road, Douglas and headed the Manx Line Shipping Company launched in 1978 as opposition to the Isle of Man Steam Packet. Geoff was also a director of Duke Video which his eldest son Peter set up in 1981, a company that still exists, these are some of his business achievements.
The TT Riders sister charity Friends of the TTRA is privileged to have Peter Duke as one of our Patrons which will always include the name of Duke in our memories, whoever and whatever they might be.
Geoff was a Legend.
On behalf of the TTRA and The Friends condolence cards have been sent with the following letters.
This was sent to Mrs Daisy Duke.
It is with great sadness I am writing on behalf of the President, Patrons, Committee and all the members of the TT Riders Association sending our deepest sympathy and regret that such a fine and respected man has passed away.
Not only was he such a wonderful world class rider, he was adored by his fans as being a gentleman of the sport. " The Duke " was totally apt. and a very fair and honest competitor with his sportsmen he competed with.
As a previous President of the TTRA he brought many ideas and took the position with honour and pride.
May we hope that you will take comfort from knowing that he was loved by everyone who knew him in all walks of life.
Rest in Peace Geoffrey.
From The Friends of the TTRA.
This was sent to Mr Peter Duke.
Writing on behalf of the Members of the sister Charity namely The Friends of the TTRA.
This membership is made up of like minded people who have spent their lives as spectators, sponsors, mechanics or simply enjoying the wonderful sport of Motorcycle racing and being enthralled by the excitement and racing bravery which was shown by the immaculate style of the wonderful racer Geoff Duke OBE.
Passing on to you the sincere condolences of the many admiring members we have who are saddened by this great loss to the sport.
It is an honour and privilege that we still have the connection to such a great man through you his son accepting to become a patron of the Friends of the TTRA in 2014 and to keep the Duke's name in our Association.
Our deepest sympathy goes to you and your family.
Donations if desired to
THE TT RIDERS ASSOCIATION
c/o Frances Thorp Secretary
Mountain View
Glen Maye
Isle of Man
IM5 3BJ
---
NEWS TO ADD?
If you'd like to contribute to this section, please contact Frances Thorp at francesthorp@manx.net